Alexandra Bounxouei is working on her second album. It will hit the market within month. There goes again my piggybank. More info>>>>
Another exciting chapter of Lao urban music. Introducing another hip-hop clan to our Laos Family. They have been a permanent fixture in the underground world for almost half a decade now and their flame is still burning strong. If by now you're not familiar with their work, well...... More info>>>>
Ainoy brings out his unique and quirky style of music. Two tracks are available to download. If you have not caught on to the sounds of a quirky Lao hip hop, this would be a good start. More info>>>>
There is a soft side of Pumpkins. Check out their ballad love song. While you're there don't forget to have a peep at their new video. Yeah, it was shot in down town Vientiane. More info>>>
Does Sao Leanne come from the same village where Sao Sy Vientiane used to live? Maybe...but both of them have different background. Sao Leanne might just appeal more to the hip younger generation since..... More info>>>

I'M SORRY
Breaking the traditional "Lao Derm" by coming out with this amazing pop/rock album. He has established himself as formidable artist around. Nicely crafted melodies and imagery-laden lyrics are extremely well-delivered. More info>>>>

SARKY ROCKS HER BOAT
It took until 2000 for his fame to match his talent. That was when he released Sao online. His latest is "Hao Pen Kon Lao" meaning we are Lao. Some describe him as sex symbol other know him as guitar magician. More Info>>>
Ok this is for the rock lover. Noy Sydanon and the SDN gang also have three new songs for you to download from their website. Currently he is on tour. More info>>>>
Willy Denzey, another brilliant R&B artist from France released his third single from the album ACTE II. Check it out >>>>>
This Hip Hop song from Lao Crimino will surely set a new bench mark for Lao Hip Hop and will become most talked about song of all time in the history of modern Lao music. This group of Lao Crimino will conquer and lay claim their Hip Hop territory. There is no shocking rhymes here but smooth, beautiful and perfect .....Pix of Lao Crimino More info>>>>>
Valentine Music (VM) has unearthed yet another brilliant young talented group of people. VM keeps the momentum of producing more exciting rock music going. APACTS band is an excellent example. Two pretty young girls and three hunks make up APACTS. They rock! More info>>>>

SMASHED PUMPKINS
Finally, after years of waiting Pumpkins have released their first really loud album that manages to match with anybody world wide. This CD plays with such fury, sonic blast of energy and pure aggression. It's absolute cataclysm that threatens to burst your ear-drums. More Info>>>>

CHANSOUDA WITH FLAIR
If she looked familiar to you then yes you are not wrong! A 22 year-old model from Vientiane used to be the face of Tango. She is sure not just a pretty face. A Song Contest Festival winner, new album is coming soon this year. Now you can listen to her songs she did for the 10th ASEAN SUMMIT. More info>>>
This group is known as SMARTZON. They are a real pro. Consists of Joy Tippachan Keokonnang and Gus Sisavath Lanxang. Although they have been around for years but has not yet released any album. 2005 is the year. Here are their songs. More info>>>
His top hit song is "Phu Kao Kaun". It released, well almost ten years ago from album "Saparnhug Lao-Thai" with the same company that produced Lao Heavy, The Sapphire. Now he is back with two friends - Gydaophet and Suthin.. New album will be known as "3 Tigers". Here is a sneak preview of their new music video. This song is produced and written by Panya Phanthapanith, One of the four owners of SS Flair Records Group. More info>>>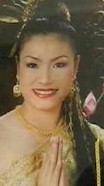 SABYEDEE TUKTA
One of many singers who was invited from the Foreign Affairs Department to entertain the ASEAN Leaders who attended the SUMMIT, And she also commissioned to record official song for the SUMMIT. Her debut album released in 2003 - "Prarukkane Tan Fay". Her songs aired throughout Laos. She also toured and shared stage with Grammy Entertainment's stars in Thailand. More info>>>

CLASS OF HER OWN
Another flash of hype or the real thing? By now you should have made up your mind about Lao music. Introducing another brilliant talent from home grown. Listen to new brand new songs of hers. She delivers them with a great deal of class and ability that the world should equally recognise as damn good. More info>>>>
Now we have two beautiful SAOs. Moreover they are from the same family. Here they come SaoBabyVoice and SaoLVP. Listen to their hot song - I'll Be The One. More info>>>>
The music world is full of new idea and innovation. Especially right now, Lao people are singing and dancing to sweet new tune of success. Yep, life is about what you make of it.
Music has done more than anything else to bring beauty and Lao-ness into the eyes and ears of audiences around the world.
With Laopress.com, you'll stay on top of Lao current music arena. For example, here is another hip hop song, "LaOz rHyDaHz" from 10 HuNdReD dEgReEz (LaOz PiRu). LaOz rHyDaHz is simple awesome. More Info>>>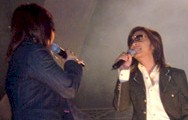 ALL THAI UP IN VIENTIANE
Recently two Thai Music Artists - Dunk and Parn had concert at New Concert Hall at ITECC, Vientiane. The two stars shared stage with Laos own new up and coming R&B band, Overdance.
More Picture at http://atcyberia.com/laopy2004/gallery/ltconcert.html
Did you know French Speaking Lao Willy Denzey released his latest Album titled ACTE 2... This CD has 14 Hot songs. The première single from this sweet RNB album is HONEY. More info >>>>

Now there's a name just ripe with promise. It is obviously Lao in origin. All songs in IBU album are very serious in its politics of romance subject matter. Tommy Chanthasene's heartfelt and insight lyrics are brought to life by IBU's smooth, soulful, seamless voices. These well crafted songs written by Tommy Chanthasene are testament to his song writing prowess. More info>>>>

URBAN ARJARN
* Party animal,
* Love being in an environment where women are sexy and shaking their booties like there's no tomorrow, and he is a rapper. More info >>>
DID YOU KNOW.......
We uploaded concert video of:
Laos Original Ganstaz in vientiane, Laos and
Cells concert Vientiane, laos. and several other hit songs.
Everyone's asking for these guys, so here they come. Lao's hip-hop new comer Laos Original Ganstaz are renowned for their pure energy. Their new single sets to blow the roof off. A song they do for Tango commercial. Once again we present you the brand new song in the never-ending pursuit for the Original. More info>>>>

TOO HOTT
You may not familiar with the name of SaoBabyVoice. This shy homiee sings remarkably well. Too Hott is a cool hip-hop song she collaborates with InFamous. It's so bad, it's good. She has something to say....More info>>>>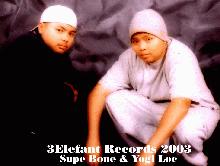 URBAN SOUL
The popular of Lao music has simply exploded and you can feel the effects right here. These younger artists from around the globe seem respectful to their country of origin. I am all for the progress. Here are another two songs from riceboy. More info>>>

SWEET SOUND AT VALENTINE
Prepare yourself for this unforgettable debut album from Vientiane singer Ting Phailavanh. Led by her hit single "1 Natee", this CD showcases a superb local talent whose song writing skills, lyrics and vocal will leave you speechless. More info >>>>

GUMBY "FAST LIFE", ENVY.

Let's hear this song bY the Boy from the hoOD, GUmBy. Here, for the first time, is his solo project, and also house. The most powerful, focus and poignant album yet!

Love him or hate him you've got to admit you are curious about the new album 'FAST LIFE'. More info>>>>

YOUNG & CREATIVE
One possible reason that there are many so many young and talented good artists popping up these days is that, it seems every young Laotians enjoy the freedom of being creative. That is being themselves. More info >>>>

CELLS BELIEVE
They are the biggest, most successful rock band that Laotians have ever seen. Are you ready to rock?
These guys do know how to make Lao noise and Laotian around the global are going to love it. Cells' debut album delivers the blustering, thundering sound. It's the finest Laos made rock. More info >>>>

MR HANDSOME
Mr Handsome is the hottest urban track to be taken out from their highly acclaimed debut album, OverDance. Urban band, OverDance make up of a gal and 4 guys from the hood of downtown Vientiane. More info >>>>

AWAKE is a brand spanking new talented Vientiane pop band. Their songs are simple and honest. Take for instance a first track "LeKoy" is an excellent example of a typical AWAKE soulful, emotional journey. More info >>>>>

ROCKING UP THE TEMPLE
Stars flew in from around the world to celebrate the big day out at Wat Lao Buddhadavong, Virginia. Carabao, the Metal Band from Thailand was one of many stars did a spectacular show so did Noy Sydanon with his band SDN. Carabao still stands today as one of the biggest modern metal that Thailand has produced. More info>>>

OLD SOUL
Laotian artists really bring all attention nationwide and internationally to the bright lights, a small country like Laos, and this year we have another talented artist emerging.
Malyssa, the first-known artist of Lao-Thai descent who has made it in the mainstream American music industry, talks to VOA about her life, musical aspirations, and her debut all-English album, Reminisce, which has received wide airplay. More info>>

NUMBER ONE WILLY
This is just a beginning of a beautiful adventurous journey of the latest star that has rocketed into prominence in French speaking side of town. A 21 years old Willy Denzey is a new international RNB rising star.
Music is distributed by Sony Music Entertainment and produced by EMC record. More info>>>>
If there is ever going to be Lao hip hop scene, then every hip hop artist deserve to be there. Ainoy brings out his unique and quirky style of music. There are sample tracks available to download at his website.
If you have not caught on to the sounds of a quirky Lao hip hop, this would be a good start. More info >>>
BAMBOO SYMPHONIA
In front of Alexandra's house, she was about to go to Bamboo Symphonia concert which organised by The Embassy of Japan and the Ministry of Information & culture. Supported by the The Japan Foundation.
The shows were held at National Cultural Hall on 18th - 19th November 2003. There were several Japanese musicians. Alexandra Bounxoui was special quest. More pictures>>

CLASS OF HIS OWN
When this year is over, one album that will be burnt into your brain and set a new benchmark in Lao music will be this new album from Noy Sydanon's.
He has achieved the most amazing fusion of art and sound from his latest experiment I ever heard. This will be another indication of how darn good his or Lao music will be.
Laopress.com has the world exclusive sneak preview of his latest songs. No doubt, this album will be instantly powerful, intricately compelling, has immerse longevity and his unique artistic statement.
We have world premeire of his latest rocksong called Ta Lak Ta More info >>

UNPLUGGED MEE
Come and celebrate the finest music with Lao ultimate cool band, the Blackflame. This song, Qonkito is one of their many great hit songs from the Reality Check CD. They help Lao music move into another level - something different, exciting and new - world-class level. They pop into rock sounds with great noise and melody. It's awesome. The band is currently working on their third album. More info>>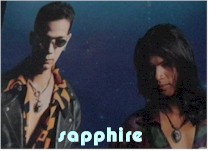 LAO HEAVY
One of many bands from Laos that makes it big internationally is The Sapphire. They are bunch of professionals (doctor, accountant, ..) who get together to rock. Their first album titled HEAVY LAO - SAPPHIRE had gone gold. They created the history by being the first Laotian Band to perform in Thailand in concert. They also appeared in Thai television shows. Listening to their hit song. more info >>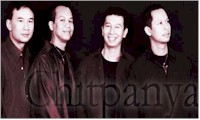 VOICE OF CHIITPANYA
Two years after the release of Chitpanya's brilliant Yood Verra is set to release the follow up. Bandit Chitpanya said "We are currently working on new material".
Yood Verra is the product of a four guys, all from Nashville, TN. It is music that the band finds most of its enjoyment, where each member bring their own ideas and perspective to create something unique and exciting.
As for right now, the band are prepared and focused on pushing themselves, and their music as far as possible. They are my number band! www.chitpanya.com. More info>>

MEE MYSELF AND ...
He's bad. He's naughty. He is Lao I mean LOUD! He is a sexual machine. This action man is going solo looking for you girls to do French kiss the Australian style, Yes... Down Under. Guess who that is. Yeah, It is Mee. www.blackflamemusic.com more info >>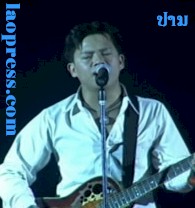 THE REAL PANE OF JOY
After a tremendous successful touring in 2002, Pane's got music biz hype behind him. It's easy to see why he is possibly one of the top 10 artists in the new Millennium. Just listen to his latest track 'OnLa'. The quality of this song, with every listen captures the tortured emotion within the lyrics to painstaking perfection. [More info]

ROCK THE UNIVERSE
Listen to one of the best song, Vanida new remixed dance version of Hugte Ti Lorkkoy. This is world première. from this beautiful artist, Vanida from the lone star state. All songs in this album are tailored for the broken hearted or unlucky-in-loved Club. All songs in this album are tailored for the broken hearted or unlucky-in-loved Club. This CD will definitely attract the attention of every Laotian rock/pop lover worldwide. [More info]
Nithada lives in France and burst into French music in 2001 with debut single hit Viens Vers Moi. Her love of music started when she was 14. She is in Warner Music book.
The tracks have sweet melodies and shifting tempos. The good news is that they are good! Those two songs demonstrate the brilliant talent of Nithada.
Viens Vers Moi is a rich, honest, innocent and absolutely beautiful song. It has beautiful overall sound with fast moving beats. It's effortless COOL!
Sample songs are available at her website at http://www.nithada-online.com. [more info]

ROCK SOLID HITS 4 A HARDER GENERATION
The next big Lao thing? Well, if you take Mike's latest album, "Made In Heaven", as an indication then it is. It's out now. While music is getting angrier and the World is full of chaos and suffering and people are getting nastier, forget them. Get this CD into your life. [more info]
visit mike's Restaurant
@ No 3 Minto Road Minto NSW "Sri Thai"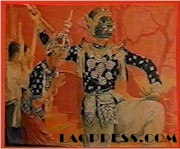 WELL PRESERVED
If you haven't been to Laos to see the ultimate Cultural Show, this is the great video to watch. You will be charmed by Laotian civil soft cultures through music and dances. Thrill to the exciting rhythms of Laotian prideland. The awesome power of unity.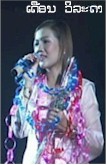 PRINCESS OF LAO COUNTRY
Listening to her music will gives you an enjoying listening and memorable experience. Vilada, not only is she a stunning beauty but a talented and gifted singer.
Yes, Lao country song is getting better in quality. I love country music. It's beautiful, sexy, relaxing.
Here is a hit song, a beautiful BO LUME HIN HERP (FORGET YOU NOT, HIN HERP).[more] [song]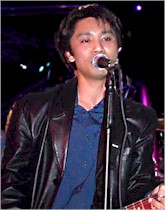 NOY LATEST ENHANCEMENTS
He is working on his latest enhancements. It's sure guarantee ultimate satisfactions. He has been experimenting with latest technology. Thus his latest or third album is coming.
By judging from his previous albums, all of the sounds are very sexy. So watch out for his latest enhancements, it will sure make you scream in ecstasy between pleasure and pain. You'll ask for more. [More Info]

BACK IN THE USA
The hottest Laotians' pop diva, Ketsana Vilaylack is back. She is now working on her latest material in California, America. Her fans will be glad to see her performing live before them again.
After spending the previous years recorded her latest CD in Thailand and toured Laos She is now ready to get in touch with her fans around America. FANMAIL [More info]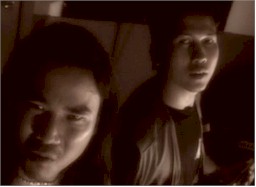 JUMPA LATEST VIDEO
We have world première music video from JUMPA, the latest demo song. Jumpa is a brand new band form to satisfy the needs of Lao youths' appetite for pop music. This quartet is the most recognisable individual in their own right, talented, musical magician, and famed sex symbol. [MORE]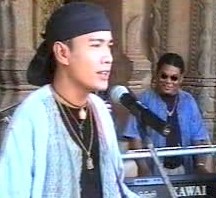 WELCOME 2 LAOS
Listen to the latest song from Laos latest sensation, red hot rock singer KongLa Noumsumphan. Visit Laos because there are plenty to see and do.
This rock song will surely convince you to pack bag and go out to visit Laos, from north to south or east to west.
It has been several years since Techno Friend graced and changed the face of Lao pop/rock music. Then there was Ang Othong appeared solo in our music scene. In the time we have Xay, Noy, Xay, Mike, Joey, Chitpanya, Sarky and the Exile. They have pushed Lao music to new height. Now, SITHIPHONE SOUVANNASOUK, the-then-lead-singer of the Laos famous pop/rock band, TECHNO FRIEND, stands up to this competition with his new solo album, "BORN AGAIN". [more info]
Welcoming a new breed of artist, another Mek to global Lao. This is his first CD with producer Sarky Mekmoragoth, a well known rock artist and wonderful guitarist. The collection of original tracks presents a fairly generous scope of pop/rock sounds.
Our mission is to deliver the best. This is one of them. A tasty and classy release will definitely appeal to the serious music lover. [more info]
ALEXANDRA
Breathtaking is the word to describe this young, beautiful, articulated, talented ALEXANDRA, another hot, up and coming Lao artist. Here comes ……

Sixteen year-old Thidavanh Bounxouay is a new phenomenon in the entertainment scene in Laos. Eight of the best brand new pop/rock songs feature in her première album, "DREAM". [more info]

TONIGHT, feeling lucky? Look out for Nikki's TONIGHT! It's the latest release from Nikki. This one sees him do 10 songs. The tracks include nine brand new songs which are written by the man himself and one classic song that he sings & dedicates that for the love of his life... [More info]

Let's us present to you our new, young, sweet, beautiful, talented, formidable Miss D Vongdara.

Pamela "I am currently working on my first album. Hopefully, It will be ready by the end of this year. I have no idea what it will be called. It's a secret! In this album there will be at least 10 to 12 songs and they will be in Lao, English and maybe in French". [More info]

This Lao/English R & B is something for everybody from Sunny Boy at his best. The boy resides in Canada. He knows how it is to be cool and might just have this smooth and silky sound to melt the cold hearts. [More info]

Following on from the phenomenal success of his debut album KHO IS LAO, Noy gives us all from his heart from any DISTANCE. The new album includes Torramann, So good So Bad, Champa Vientiane, Kaw Sa Barn, 10 tracks in all.

Every track is a standout. He captures the romance, passion and the meaning of Lao in his songs. He has this ability to articulate through songs. He is such a great artist, a wonderful songwriter and a very sincere person. [More info]

NEWMOON, when it comes to variety, this band has it all.

Newmoon recorded all of their music at their own studio. Their third album has just been released. The music style of Newmoon consists of classic and modern, mixed in with a swooping, melodic guitar that you just can't ignore. [More info]

It's hard to believe that we are still talking about The Tecno Friend. Even though the band doesn't exist any longer but one of the original band members, Ang just released his solo album.

Ang Othong Malaythong played lead guitar superbly. He is a musical magician. He has me in complete awe of his performance. [More info]

is songs are about loving and having fun. If you listen to his songs you'll get the intense emotion from passionate feelings of love.

Nikki is another Lao artist coming into this world to add a bit of funk & rock to Lao music. He's raw talent.

He is no Shaggy nor he is Ricky Martin - he is just our own Sinxay. The boy's debut great album has debatable songs in our modern time. It is known as "SAO LAO HOA DANG" for obvious reasons. This is his solo album. He is a member of SANG SAVANH band. The band formed in 1997. [More info

Youth Gone Wild is another masterpiece from Young Gatt – the Azyattic. Gatt got introduced to Hip Hop when he was in 8th grade. He had a lot of Black friends that were rapping and listening to Rap music. He soon developed a love for Hip Hop music. He began writing songs and rapping to various Artist's instrumentals. [More info]

Let's hear this song bY the BoyZ from the hoOD, GUmpy from Lao felonz. Their latest single called Get Your Mash On! by Lao felonz copyright allusive mindstate recordz. The BoyZ have been hipping & hopping for more than five years. They used to perform in

MN, OKC, VA (wat-lao), PHLI and D.C.. [More info]

Phone launched her first album in 1988 through her P & M Productions business. The company that has been publishing and promoting her. She chose Montreal, Canada to perform the première concert in the same year. [More info]

Welcomed one of Lao pop pioneer. The biggest, most well known, we presented you Mr Voradeth Dittavong.

He toured Sydney, Melbourne and Canberra. He also officially launched his brand new album called "Jenny you say" which translates in English meaning "Last night where were you?". [More info]

Impressionist, contemporary, realist artist known as Noy Sydanon will release his second CD not so far away. His work of art is neither abstract nor conservative. Simply, what you hear is what you get. That is good. As you know from his first album, lyrically all songs are captured with an elegant simplicity and mighty touches throughout. [More info]

He recorded his first album with his heavy metal band, Manukind in 1993. They were awarded New Artist of The year in 1994. Fame followed. They appeared in print media, MNMT Guitar Magazine. [More info]
The Gracefulness of Lao Dance
In Australia, there are many small groups of Lao communities. Each year they set up schools to teach young Laotian-Australian to read, write and speak Lao. Traditional dancing is also one of the subjects being taught. Here are pictures of young dancers who helped out LaoPress & Entertainment.