PUMP IT UP

By Andy
After the success of 999 Roses hip hop song, it must have been listened well over a million times since it uploaded. It has completely reshaped the face of Lao popular music. He is now even more dynamic, most complete, intense and thrilling artist. His latest project is "Shut Em Down". This will definitely be another exciting new chapter of Lao hip hop music. "Shut Em Down" is another excellent fusion of Lao folk music known as Morlum with hip hop music with an edge plus jump up party jams. Took the sampler and ripped apart the words - jammed everything back in with the enhanced beat. Great stuff.
These three Lao artists Gumby, Supasang and Joanlee also will also release independent movie due to coming out very soon. As for rough and tough Gumby already vowed to re-invent himself as a result he has new motto in life 'New Year New Gumby'. Full interview can be heard here at http://www.voanews.com/lao/lao_diaspora.cfm. He recently appeared on national radio programme to represent. Watch his space.
HO! HO! HO!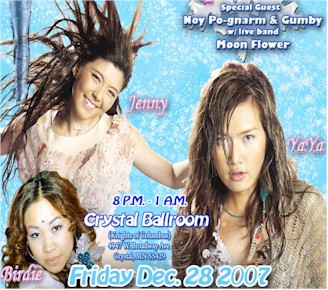 Here is the latest event to hit town during this Christmas period bringing three beautiful and hot BiRDS together. Girls power! This cool event will be held at Crystal Ballroom, 4947 W. Broadway Ave, MN.
ON STAGE
Here are the latest video of concert from Lao super talented artists. They are from different musical background. In this rare event they shared the same stage doing charitable concert. Alexandra is famous pop princess. Gumby aka Pryce Prince of Darkness is award winning and leading hip hop artist and then we have the latest sensation, one of many Lao international artists, Birdie. This is wonderful witnessing our array of top talents demonstrating their crafts. So enjoys!.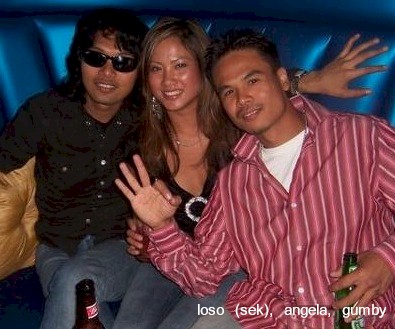 GUMBY NEW VIDEO
Here is the latest music video edited personally by GUMBY himself. "Kandles of Live" is a song from his debut album which released several years ago.
You might be aware that GUMBY was the first hip hop artist featured here at laopress.com. Over years we have been witnessing his escalating rise. He has been spitting for years. His dedication to excellence is second to none. He is truly one in a million. Here is another outstanding music video from Gumby. Let me say this " I do appreciate your hard work tremendously, Gumby". Cheers.
DID YOU KNOW...
GUMBY aka Pryce is working on a new project. check it out here


Date: 14-APR-2004 
SUPER HARDCORE 
A weekend gathering for fresh & blood feast has resulted in a super recent collaborations between two bloody Larb Dip eaters, Supermon and Gumby in this POP IT OFF track.
A fearless lion Gumby sharpens his claws and has brand new set of diamond and steel teeth thus he has big appetites for more fresh raw meat and thirsts for juicy red blood. The two spit venom everyway they can, causing friendly fire along the way. The result being a very tasteful and hot just like Bloody Larp Dip.
http://youtube.com/watch?v=RSmTJ_EfvNo
Here is another outstanding track from Lao most well-known hip hop player Gumby aka Pryce, Envy Remix. Matter of fact, it's a remix of his first single from the première album Fast Life. A track that started the whole Gumby stardom.
Now his hotly hype second album is here for you to own. His quest for world domination continues. Just recently voted for the best "Kept Secret". Now Gumby is ready for mainstream. Love him or hate him you've got to admit you are curious about his latest album, too.
Here is the most hype video release of Gumby. It's Envy Remix version, a première single from his debut album Fast Life.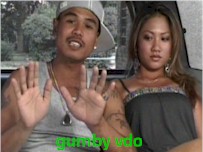 WORLD EXCLUSIVE
GUMBY 's quest for world domination continues with the latest release of his world première music video, G.U.M.B.Y. a track from second album. O yeah - hip hop. This is nice - a kind of new wave. They completely reshaped the face of Lao popular music. Took the sampler and ripped apart the words - jammed everything back together in a junkyard of beat, aggression and righteous politics.
This music video fully edited by Gumby aka Price himself so enjoy.

For anyone who didn't catch his solo album - Fast Life, Gumby was at his best. We have seen many artists since have produced such glut of fine hip hop music. Here is his latest. This is HOT.
Gumby "Here's one of my new single to add . Blow this one out of proportion, cause this one is HOT.. it's called 9999 Roses (G-Mix) . i remix an old Thai song and mix it with hip-hop." The result is so fine.
DOWNLOAD HIS LATEST SONG:
9999 ROSES
GUMBY "FAST LIFE", ENVY
Let's hear this song bY the BoyZ from the hoOD, GUmBy. He just released debut RnB album titled Fast Life.
His latest single called ENVY! The Boy has been hipping & hopping for more than five years.
Here, for the first time, here is his solo project, and also house. The most powerful, focus and poignant album yet!
Love him or hate him you've got to admit you are curious about the new album 'FAST LIFE'. All songs in this album are in English.
!! - explicit content.
Hi Andy,
Thank for the support.
Here's the CD's you keep and hopefully help me spread my music .
I'm looking forward to see my music on your web site!
Please put track #2 on your site (ENVY).
GUMBY
G12
Let's hear this song bY the BoyZ from the hoOD, GUmBy from Lao felonz. Their latest single called Get Your Mash On! by Lao felonz copyright allusive mindstate recordz.
Lao felonz are from Minneapolis, Minnesota. The BoyZ have been hipping & hopping for more than five years. They used to perform in MN, OKC, VA (wat-lao), PHLI and D.C..
Currently they are working on their new CD. Hopefully it will be ready by Spring 2002.
This song is based on the movie, The Fast and the Furious kuz "we are motivated by the carz plus we have carz like that".
This song is for those who are into carz. Here is the link http://artists.mp3s.com/artists/118/laosboy.html. There are more songs from this group at the above link.
CD cost: $US10.00
---------------------------------------
Contact or Order info
6 Tusksrecords  
2112 Glenwood Ave n
MPLS, MN 55405 USA
e:lbgumby@yahoo.com
http://myspace.com/gumbyakapryce