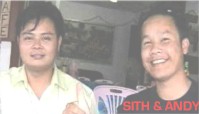 laopress.com: Over the past years, Lao pop/rock music has just exploded what's the view from the inside? why is that? what is pushing them off?
sithiphone: Actually, groups of pop/rock listeners in Laos are very small if we compare to other countries, our population, markets or you can say "consumer".
During the past years I think Lao music has developed and not only pop/rock, there has been also Lao folk, traditional Lao Lum, Louk Thong Ban Na. Some are the best in quality, and some are worst. There are ever more choices for our fan/consumer depending on what style of music they want to listen to.

laopress.com: You have so many hit songs, was there any added pressure in recording new album?

Mike P There was some pressure, but it came from the like of The Exile, Noy Sydanon, Joey and other great Lao artists out there who've put out great and better albums. I was trying to create works that, if not up to their standards, at least make it sounds ok. [more]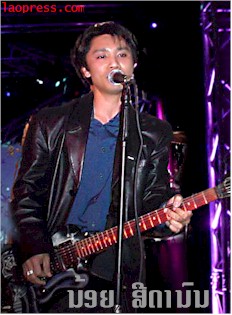 LAOPRESS: Song, which best sum you up?
NOY SYDANON: CHAMPA VIENTIANe, WELL IT DOEs NOT SUM up ME, BUT SONGS LIKE KAW PEN LAO, KAW SA BARN AND PARB LUANG TA (FROM THE FIRST CD) DESCRIBE ME THE MOST. I CARE DEEPLY FOR OUR PEOPLE, OUR CULTURE AND our Innocence. AS LITTLE AS I HAVE and I AM TRYING TO GIVE BACK AS MUCH AS I CAN. IF WHAT EVER I AM SAYING IN MY SONGS MAKE ANY Differences TO SOMEONE OR SOMETHING then I'm HAPPY WITH THAT. [MORE]

LAOPRESS: When did you release your first CD?
VANIDA: My first CD released on Lao's New Year in 2001. To many, my album seems new. Because they'd never heard of me. If it wasn't for ai Noy Sydanon, I don't think I'd posted here on your site. I like to take this opportunity to thank him and Ai Bounchanh from Wattay Production also. Thank you very much for you support.
[MORE]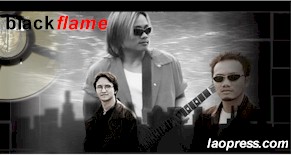 laopress.com: where do you think Blackflame is headed?
Blackflame: We ask ourselves that same question everyday. I'd like to say that we gonna be here making music forever...you know that's a F**kin' lie. We just take one day at the time. Right now, we're doing mini tour locally & rehearsing and we'll be heading to LAOS in the November for the whole month. Hopefully, after Laos, we can continue with US tour. [more]

laopress.com: Give us a bit of CHITPANYA history?
CHITPANYA: Noy, Sy and Tic were part of the band "NoomLao". The brothers later relocate to Nashville, Tennessee. Vandy was with a band "Vanteria". He later then relocate to Nashville, Tennessee. Fortune brought us to combined FORCE then resulting the "Yud Vay Lah" CD. [MORE]

laopress.com:how different is the second album to the first?
Nixx: In term of sound recording and preparation, they were a lot more improved than the first album, very different. I guess we are well prepared and organised than our first cd. Thanks to my sound engineer Nick Henaca, and Kingdom recording for putting a lot of effort to it.[MORE]

laopress.com: How happy have you been with the response to your last album?
SARKY: Very happy to have tremendous supports from fans. Many royal and new fans have visited www.sarkym.com to sample our sound of music and leave many positive and encouraged messages. We are delighted! Very happy to know that we have many supporters out there. [MORE]
LAOPRESS.COM: HAVE U FOUND FAME?
XAY: Not yet, but I think it's just around the corner - only if I make the "right" turn.
LAOPRESS.COM: U R WRITING A LOT OF MUSIC, HAVE U ANY FAVOURITE OF YOUR OWN?
XAY: Since I started writing songs in 1987, out of 25 songs, my favorite is "Tongdum Tongdeng" song on my 2nd album.
[
MORE
]