Music Video

Before watching TV interviews or music video, Let's get to know our TV Host. Here is Andy............
Why is he so brilliant, so terrible, a man at once hideously cruel and erotically tender - a genius of music, and of everything that is beautiful.
All are welcome and we value your contribution. We'd like to make this website enjoyable.
All songs here at laopress.com have copyrights. They should only be used for home entertainment and they shall not be copied or broadcasted without written consent.
Sabyedee everyone. You can have your say on how we play music video here at laopress.com. Place a vote for your favourite video clip. Our Host, Andy will play the most voted clip. You can vote for one of them or suggest another video.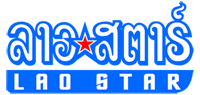 Lao star Television Channel, Laos
Lao National Television http://www.tnl.gov.la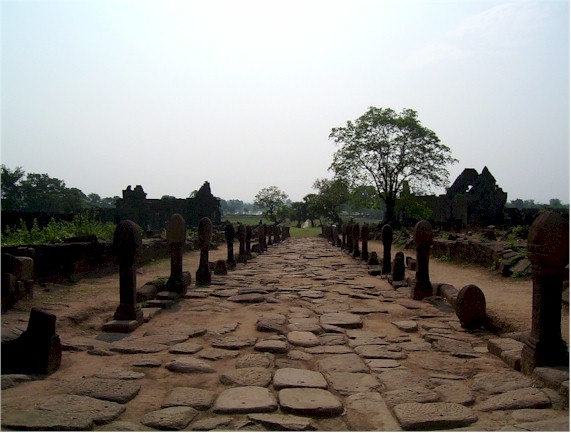 WAT PHU CHAMPASAK
Where the hell do you get information about World Heritage site known as Wat Phu Champasak? Well, how about let these two punks from Smartzon punk rock group educate you. You may learn plenty from "Wat Phu Champasak " punk rock song from these famous dudes singing about world famous temple situates in the southern part of Laos.
Two videos courtesy from Lao National Television
More info >>>>


THE FIRST KING
FA GHOUM (1316 - 1374 ), founder of and the first king of Lane Xang who created the first unified state of the Lao people.
Fa Ngum was the grandson of Souvanna Khamphong, the last in a long line of loyal rulers of the principality of Muang Swa, later called Luang Prabang. According to the legend, Souvanna Khamphong banished Fa Ngum's father for having seduced one of Khamphong's concubines. The family fled to Cambodian capital at Angkor, where he married a Khmer princess.
In about 1350 Fa Ngum and his father raised an army in Cambodia and fought their way through the numerous Lao principalities of the southern and central Mekong River valley, in the course of which his father died. He continued on to the conquest of Xieng Khouanh then, in 1353, took Muang Swa
His major conquest was of the kingdom of Vientiane. Before his death, his empire extended through virtually the entire area of what was to become Laos, plus the Black River valley of present northern Vietnam and northern and eastern edges of the Khorat Plateau of present Thailand.
Two video courtesy from Lao National Television - the ceremony of the inaugural elect of King Fa Ngoum, the first of Laos Lanxang
Video Part No #3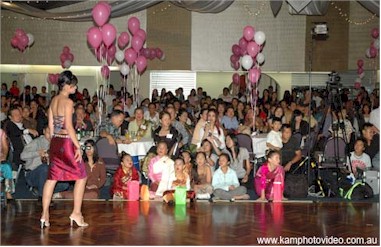 Here is what you have been waiting for to see - Fashion Parade modelling by Nang Sangkharnes of the previous years. The event held at the time as Miss Charity Quest. Pictorial diary documented by www.kamphotovideo.com.au
Watch Fashion Parade modelling by Nang Sangkharne
Here is one of many Fashion Parade organised my Andy of laopress.com
Collections provided by my beautiful Chinese Russian friends - Vera and Vietnamese-Laotian Australian girlfriends - Thi and Hanh who used to work for big Australia power houses. Introducing my sister who studied Fashion Designs at the finest school in Australia. And of course our own pretty models. Live Band provided by by THE IMAGE and Dance the night away with music by Crazy DJ.
Watch Fashion Parade by laopress.com

SILK ROAD
Here is another video made ready over the weekend. Music is by Lao best rock artist. Here we were on the road to the southern province of Laos, we stopped over in a country village some where, 50 kilometres off the main high way. Yeah, there is no place on earth liked Laos. Starring in the leading roles are Fancy & Nathan.

Miss Malena Vongdara is our Miss Charity Quest for 2007 - (Miss Lao 2007). She made history by becoming our 28th Nang Sangkharne since Lao Coop Community Inc. held its first event back in 1979. The judging criteria is tough base on these: unique Lao smile, manner, catwalk, traditional dance of Lumvong, Lao talking, most importantly BEAUTIFUL. Andy Chanthavixay owner of laopress.com was part of panel of nine judges. Nice to see many people having fun on the night. Thanks organisers for doing great job. Well done! Watch video. Live Band by Vientiane Band. Hosted by Angelina & Soumountha. More info >>>
Music by: Sithiphone Souvannasouk

TRAIN, PLANE, BOAT AND AUTOMOBILE...
A week of road trip to beautiful part of the world, the ever sunshine coast of Queensland, I created this video. One week I clocked up more than 4000 kilometres. Travelling along the coastline, sleeping in car, beach, motel, hotel and camping site. This was one of the most enjoying experience that I have ever done. In this video you can listen to Lao rock music, one of the only two songs I'd listened to for the week. I flew out from Sydney to Gold Coast and then drove to northern part of Queensland and back. Watch video


Here is another recent video taking during weekend trip to the northern tip end of Australia, Darwin. What a quiet, wonderful small city Darwin is. In this video you can listen to Lao finest country song from Lao star. This was a really memorable, enjoyable trip. Artist's info site

HOLIDAY
Most singers c
an sing. They won't match the quality of this guy, Lao's top singer-song writer-guitarist Noy Sydanon. This is the most polish, timeless, enjoyable song ever made. It's Torramann from Noy's second album. No doubt, it's currently my best rock song. Watch this video shot in Melbourne during my recent visit to this beautiful coastal area of national Park, the twelve Apostles. More info>>>>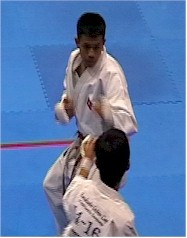 FAST & FURIOUS
The Funakoshi Gichin Cup 10th World Karate-do Championships 2006 are in Sydney. Three young Lao Ninjas participate in this global event. See these pictures and watch our video to see how young Lao Ninja take on young American and Japanese Ninjas and come out on top. He is young, handsome and has lightning fast hand speed so be very careful....... Watch video and see pictures....

Watch interview DekWat band. These youngsters are under 15 years old. A band is by-product of weekend school at Lao temple where they teach Lao customs, religion, Lao language, sport, traditional and pop rock music etc..... This is Lao New Year at Wat Prayortkeo. It was three days event. We were there to document the history. Good to see many youngsters turned up to the day and night events. Happy, Peaceful and Prosperous New Year everyone!


Alyssa was crowned Miss Lao 2006(Nang Sangkharne) in Australia last night. More than 1000 people packed auditorium to eyewitness the ceremony. There were seven contestants in all, age range from 17 to 18.

Band - Khuanchay Phracha. More info about Lao New Year

More pictures

Watch video

Music of Illphatic & Noy Sydanon

Exclusive television interview with our young lady medical doctor who recently graduated from University. Find out who she is, what she wanted to do when she was younger, who inspired her to become doctor, does she listen to music when she studied, will she ever go to Laos as a doctor to work, and more importantly does she has any ……..
Download interview for low speed click [HERE]

She is tall, sexy, slender, sweet talker, always get her own way and well known among our community here. She's got long black hair, beautiful smile and attached. Most importantly, I had an opportunity to spend an hour with her in her studio. That is music FM radio station studio, Jumpa 89.3 FM. Vicky is a smooth radio show host. More info >>>>>

Hip-hop's rookie is back with his first music video. This is a track number tenth from his debut album, Da Missin Chapter. It already aired throughout North America. It was shot in Orange County, California - Da Golden State. Don't miss it, watch it here. Did you know Buc Supa Sang sing for Laos telecommunication company's commercial. More info>>>>


ANOULACK OF LAO
Another television interview, this time my quest is a young man, a brilliant politician. He is the first Lao born elected to local government. He is member of Labour Party, the main political party in Australia. Find out what he does as elected politician, his responsibilities, what he'd like to achieve, what he has achieved, what is his policies etc…. For more info >>>>>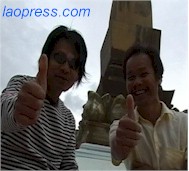 Laopress.com talked to Joey Sisouvath about his big one, the third album, music video, tour, Lao FM Radio etc....Released in Australia a few months ago. This month FANFAM Entertainment in Laos officially ship out his CDs to stores all over Laos. More info>>>>>
Most of you might probably know that I have a burning desire to assist in promoting anything Lao, especially music. In fact it's our responsibilities to help future leaders proud to claim that they come from Laos and they are Lao.