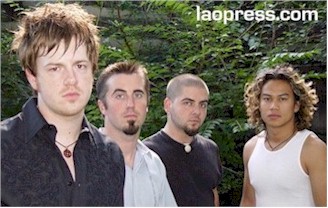 ONE OF THESE DAYS
<![if !supportEmptyParas]> One of these days, artists of Lao origin would take the world by the horn. As documented here on the entertainment side of industries, they have done us proud. Many are on the verge of becoming international stars. We are yet to slow down. Considering Lao is their first language and that is very darn good. Take for instant Daovone, he just recently release a new song.<![if !supportEmptyParas]> <![endif]>
One of These Days is a new hard-hitting, explosive, high octane, rock song from one of many international stars of Lao origin, Daovone. There are many of Lao men who have tried to rock the world. Daovone stands out as the main man. He has set the bar so high for others to challenge. His career reads like no one. He was an important member of his band for years. He has experienced international stage and has worked with other international stars and along the way influencing and helping out careers of others.
<![if !supportEmptyParas]> This is his solo project yet you can still feel as nothing has changed. It's hard not to be swayed by the clever song-writing and meticulous arrangement. One of These Days, it will blow you away.
To listen to his latest song visit HIS SPACE

Explosive, high-energy, organic, heavy, raw.... Yeah, we are talking about the latest sensation to pop out rocking. They are an international group with the musical root from the deep down south.
Introducing Eddie Daovone Bayluangrath. Eddie has been playing, performing since he was 12 years old. Writing, producing, music since he was 16. He mostly works in the mainstream market. As of now he is currently working on his first Lao debut album to hit early or mid of 2006.
With his band, they had received a lot of interests from major recording labels such as Warner brothers, Curb Records, 501 Records but America isn't quite ready to see a Lao front man to lead a band. But the world is ready for you guys. All songs were written, arranged and produced by Eddie and his partner through "Dala music production and development", a production company that he also runs and owns, which is a new company in hopes of developing new talented Asian acts and artist that are emerging..
He is 28 years old currently residing in Nashville, "Music City". Eddie "My style of music is "GOOD MUSiC" which means every kind of music that I hear is an influence to my style when it comes to writing. Somehow I manage to flutter around Rock and pop music the most".
His hopes and dreams as an artist is to become one of the few to bridge the gap in the music industry that lacks Asians in both west and east. By ways of doing so is to put out great music, for it is a universal language at least.
The album that is going to be released is just a solo project. Sample track will be available to download hopefully by early part of next year. In the mean time you can sample some of his English stuffs.

HIS SPACE [More songs here]