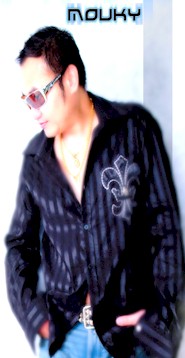 Finally we've got what we have been hanging out for. Contrary to the original plan, experiment with punk, heavy hardcore metal has seen the light of day. Pop and rock are in. After long inactivity of his hard rock band, the Bohaln, where Mouky is the lead vocalist, he has been working on his solo project. This will be a good start for 2009 with the release of this beautiful album, whose secret was a combination of smart and hard work, and single minded determination to produce the best Lao pop/rock song ever. Brilliant "Mouky Phong-Oudom Love song" is a recycle of classic love songs from the past to modern, cool and contemporary pop/rock songs.
"Mouky Phong-Oudom Love song" is a contemporary pop/rock with flair. Mouky added acoustic, rock, string, attitude & pushed the beautiful sound into spaces where few of our small city contemporaries dared inhabit. His presentation of beautiful pop/rock songs demonstrates powerful force with sensitivity, conveying an unpretentious masculinity without hiding vulnerability. His expression of desire, passion, and lust gave the sound an emotional dept. This is so cool, polished, elegant, energetic, razor-sharp pop rock sound album.
Expect this album to gain Mouky a whole host of new fans (even more fans than he gained from The Bohaln). His transformation from hardcore punk heavy metal to pop/rock artist has completed. Mouky rocks! More info >>>
F'EE ROCKS
Sample this great sound for F'ee, an unsigned hard rock band from Laos. The best things in life are F'ee. For more songs check >>>
ROCK HARD
One of many fine hard rock bands from Laos that makes it big internationally is The Sapphire. They are bunch of professionals who get together to rock. Their first album titled HEAVY LAO - SAPPHIRE had gone gold. Sample their new sound here and . More music here >>>
LAO FOLK ROCK CONT...
This is a song by Suthin, a folkish Lao country rock song. It's about a blackish dude from southern province known as the land of Champa falling for a sweet talking girl from the North. This is so true that the most romantic, generous, fun, poetic and honest type from the south almost every time hopelessly head over heels in love with Northern beauty. Take me for instance, a self promoted, unconventional, traditional moron seems so cool as ice and melt every time in hot girl's lips. One problem though, can't talk...More info>>>>
CLASSIC ROCK
After writing many songs and making several albums, Sarky was signed to play lead guitar for The Exile. The Exile is still one of Lao hard rock pioneer. Together with the Exile they made music videos and also appeared in media.
Thousand and thousand of Lao music fans around the globe hear his music.

LAO MUSIC AWARDS
Congratulations to those who took home first ever Lao Music Awards. These amazing young and talented people have written their own history. The real winners are Lao music, fans, artists, producers, Music storeowners, sponsors and all of whose who make happen. Lao music have entered into yet another new frontier and another exciting new chapter lies ahead. Fasten your seatbelt, Lao music has taken off on top speed. These are artists who won awards:
Princess Aluna - Best Female Artist & Best Pop Song Awards

Pretty Young Ting - Most Popular Artist

Hot & Smooth Cream - Best New Artist

Loud & Heavy, Hard Rock Cells - Best album, Most popular song and Best Rock Song, and Cells' vocalist Sak won Best Songwriter.

Laotians Represent, Hip Hop Representz - Spitting LOG - Best R n B

Best Male Artist is Tone Aniluth.

Seamless Secret - Best Group. Other winners are Noh and Mee for Best Producer.
MUSIC BOOM
Watch this cool Lao music television programme broadcasting out of Vientiane precinct which showcases the current hottest artists on Lao music scene . It's Music Boom. This show is so cool & exceptionally impressive specially the interviews parts. Each episode conducts outside studio in various locations with artists & fans. It captures enigmatic Vientiane and its pop culture. Music Boom endears itself to younger demographics. Importantly, this show demonstrates that many young Laotians are listening to Lao music. Excellent programme. Check it out. More here
Online Videos by Veoh.com
FRENCH NUMBER ONE WILLY
This is one of French hit songs by famous R&B singer from France. He is Willy Denzey.
LOUD & ROCK HARD
If you ever come across these tattooed, long haired, punkish, dark sun glasses, jeans & leathers wearing Lao dudes, walk fast in the opposite direction. Especially if you are in Laos where it is a communist country. They are not Lao politicians. These are members of Lao hard rock band. To be on the save side, you should listen to these cool dudes' songs. They're folkish, hard rock songs. Turn up the volume so it gives rough, tough & metal feel in you. You will be a part of metal head. More info >>>>
THE COOLEST ROCK SONG IS "THE PAST"
This is one of the coolest Lao ballad rock songs coming from one cool country. This is "The Past" written by Thoe Phommachak. This is so beautiful, sincere song writing with imagery and moment of pure with controlled aggression fused by rock sound and vocal. This is Lao rock music at its best. Music video is excellent, charismatic and well animated. Click to watch music video.
GREAT HARD ROCK SONG
This is a Lao heavy metal rock song depicting a king tale story about the first king of the Land of Million Elephants, Chao Fa Ngoum. Great song! Inspirational stuff, wow!!
MORE LAO FOLK FOR YOU
This music video demonstrates how our Lao folks entertaining ourselves for generations. This is an absolute highly competent presentation of Lao folk music at its best. It's undeniably irresistible. The sound is simple, pure and smooth. As for this Morlum, she has a serviceable voice and stunt looking. Traditional instruments use exclusively to bring out the Lao beautiful sound. This is known as Kub Ngeum, another type of Lao folk music. This is great, traditional Lao affair with a modern veneer that you can dance joyfully to. More info>>>
PUNKY LOVES DOLLS
Here is another rock sensation from Vientiane capital - Punky Dolls. This quartet rock band comes out with absolute gem called Thao Thongxay meaning Mr.Thongxay. This will surely elevate Lao rock music to another level and there's barely a question of punk rock left unasked. The humour, passion and commonsense - not to mention great music, this is just incredible. Punky Dolls rock! Lao rock music is never boring and has been proven.
This band sum up our love for drumming, thunder of guitars driven to the point of exhilaration, ear-shattering, and screaming vocal - a classic blast of punk energy. Enlist me as your fan! More info>>>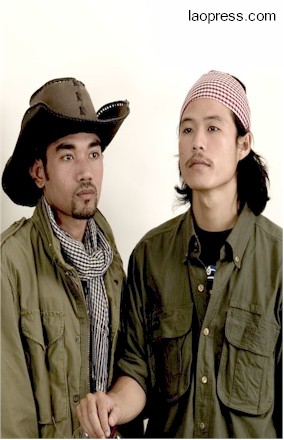 WAT PHU CHAMPASAK
Where the hell do you get information about World Heritage site known as Wat Phu Champasak? Well, how about let these two punks from Smartzon punk rock group educate you. You may learn plenty from "Wat Phu Champasak " punk rock song from these famous dudes about world famous temple situates in the southern part of Laos.
Wat Phu was the most recent site in Laos listed as World Heritage. Local southerners still celebrate festival as there ancestors have been for thousand of years before them. These three days event attracts pilgrims from immediate neighbouring countries such Cambodia and Thailand.
Wat Phu was the most recent site in Laos listed as World Heritage site. Local southerners still celebrate festival as their ancestors have been for thousand of years before them. These three days event attracts pilgrims from immediate neighbouring countries such Cambodia and Thailand.
Did you know. Entry fee applies to get into Wat Phu. During the festival the entry is waived. So visit Wat Phu. More info >>>>
CELLS, SWEET SUCCESS
A few years after they released their self titled brilliant première debut album "Cells", they have released follow up album distribute by Thai giant Grammy.
Cells rocketed to stardom with hit song Kon Zuay meaning "Unlucky Dude". After appearing in Thai national television show and countless live performances in Thailand and Laos, Cells have become household name in both countries and rejuvenate Lao pop / rock music to young Lao expatriates around the globe.
These young and talented Laotians are ahead of their peers in song writing and arrangement, or put it frankly they consistently make great pop / rock songs.
Watch this video, they posted by Cells' fan world wide. More info>>>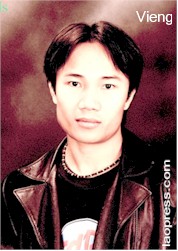 "WHY TELLING ME?"
Simply known as Vieng around down town Vientiane Precincts. He has been doing live concerts around for some times in major Clubs and Hotels in Vientiane.
Though little known as pop / rock artist outside of Vientiane but after his song "Bok Het Yang - meaning Why Telling Me?" aired nationally and it has been well received by public. It is one of many good songs from his solo album. It released a few years ago.
This is high explosive, heavy sound, and decidedly well executed song fall into as nu metal class. After listening to this song and we don't have to tell you Viengsyha who? Viensyha rocks. More Info>>>>>
CONCERT DURING PRA THAT LAUNG FESTIVAL
<![if !supportLineBreakNewLine]>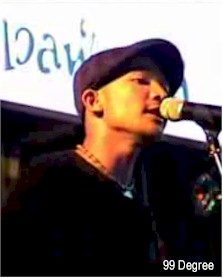 Here are some of the concert video clips from Laos. The concert staged during Pra That Laung Festival a few years back at unofficial Lao Entertainment centre, ITECC. The concert also coincided with record company second birthday. These are some of promising young rock stars coming out from Lao record company, Valentine Music (MV). The first video is by 99 Degree band. They are one finest rock band group coming out from down town of Vientiane capital. Its title is "Fun Lom Lom" meaning "Dream Only". The second video is by DVB. The song is "Hub Borvai" meaning " Not Guarantee". The third video is by Ting Philavanh + Tuoi. This song is Namfon meaning " Rain Water" or simply "Rain". This song topped the chart when it first released. It was a song where Valentine Music experimented, a fusion of pop and hip hop sounds. It's about Namfon, pretty young girl from provincial country side. More info >>>>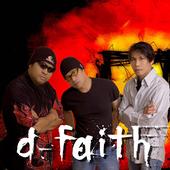 D-FAITH IS UP
The hot new thing pop out rocking is new Alternative Rock band known as D-Faith. The band make up of three cool dudes. Between them, they have brought extensive musical experience in all facets to come up with their cool and unique sound to re-connect with younger and hip Lao audience. Heavy use of string instruments and their sexy soul of lead vocalist immediately invite comparisons with another great band - Chitpanya but these boys from the south have their own style. More info >>>
NO MONEY NO HONEY
Here is a rock song by one of Lao finest band from Down Under, the Crystal Band. It's Mod Deun Mod Ngern. if it sounds familiar then you are not wrong. The tune from this song is borrowed from Lao classic song but the lyrics have been changed. This is a fun song depicting a tale of certain group of people living in the struggle street. Funny but it's true hahahah. Andy, this is your life!
With his band, they had received a lot of interests from major recording labels. Are you ready to see a Lao front man lead a band. Wow, the world is.... More info>>>
KORAT was formed to show their appreciation, to celebrate, and share with others the music of LOSO (Low Society), a legendary band from Thailand that has made their mark in the history of rock music for over a decade. The music of LOSO guided 5 strangers together from different nationalities to become 1. More info>>>

SMASHED PUMPKINS
Finally, after years of waiting Pumpkins have released their first really loud album that manages to match with anybody world wide. This CD plays with such fury, sonic blast of energy and pure aggression. It's absolute cataclysm that threatens to burst your ear-drums. More Info>>>>
This group is known as SMARTZON. They are a real pro. Consists of Joy Tippachan Keokonnang and Gus Sisavath Lanxang.
Although they have been around for years but has not yet released any album. 2005 is the year. Here are their songs. More info>>>
His top hit song is "Phu Kao Kaun". It released, well almost ten years ago from album "Saparnhug Lao-Thai" with the same company that produced Lao Heavy, The Sapphire.
Now he is back with two friends - Gydaophet and Suthin.. New album will be known as "3 Tigers". Here is a sneak preview of their new music video.
This song is produced and written by Panya Phanthapanith, One of the four owners of SS Flair Records Group. More info>>>

CELLS BELIEVE
They are the biggest, most successful rock band that Laotians have ever seen. Are you ready to rock?
These guys do know how to make Lao noise and Laotian around the global are going to love it. Cells' debut album delivers the blustering, thundering sound. It's the finest Laos made rock. More info >>>>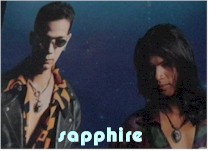 LAO HEAVY
One of many bands from Laos that makes it big internationally is The Sapphire. They are bunch of professionals who get together to rock. Their first album titled HEAVY LAO - SAPPHIRE had gone gold. They created the history by being the first Laotian Band to perform in Thailand in concert. They also appeared in Thai television shows. Listening to their hit song. more info >>
Following on from the phenomenal success of his debut album KHO IS LAO, Noy gives us all from his heart from any DISTANCE. The new album includes Torramann, So good So Bad, Champa Vientiane, Kaw Sa Barn, 10 tracks in all.
Every track is a standout. He captures the romance, passion and the meaning of Lao in his songs. He has this ability to articulate through songs. He is such a great artist, a wonderful songwriter and a very sincere person. [More info]
Ang Othong Malaythong played lead guitar superbly. He is a musical magician. He has me in complete awe of his performance. [More info]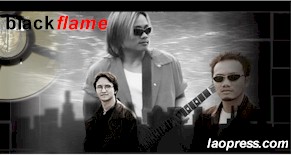 It's the album that everyone has been talking about. Not only it is one of the most anticipated release, this album also takes you on a dark, exciting journey to alternative Lao rock music, and when you get there, it leaves you want more.... [More info]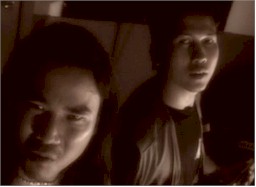 JUMPA LATEST VIDEO
We have world première music video from JUMPA, the latest demo song. Jumpa is a brand new band form to satisfy the needs of Lao youths' appetite for pop music. This quartet is the most recognisable individual in their own right, talented, musical magician, and famed sex symbol. [MORE]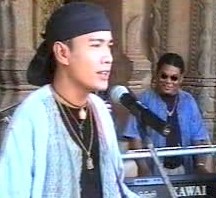 WELCOME 2 LAOS
Listen to the latest song from Laos latest sensation, red hot rock singer KongLa Noumsumphan. Visit Laos because there are plenty to see and do.
This rock song will surely convince you to pack bag and go out to visit Laos, from north to south or east to west. More info>>>
Welcoming a new breed of artist, another Mek to global Lao. This is his first CD with producer Sarky Mekmoragoth, a well known rock artist and wonderful guitarist. The collection of original tracks presents a fairly generous scope of pop/rock sounds.
Our mission is to deliver the best. This is one of them. A tasty and classy release will definitely appeal to the serious music lover. [more info]

ANG OTHONG
It's hard to believe that we are still talking about The Tecno Friend. Even though the band doesn't exist any longer but one of the original band members, Ang just released his solo album.
He is no Shaggy nor he is Ricky Martin - he is just our own Sinxay. The boy's debut great album has debatable songs in our modern time. It is known as "SAO LAO HOA DANG" for obvious reasons. This is his solo album. He is a member of SANG SAVANH band. The band formed in 1997. [More info]