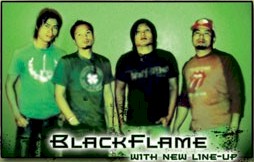 ONE SHOW ONLY!
Here is your chance to see Lao super stars live on stage in concert under one roof. The brilliant pop singer Sithiphone who sings incredible ballad love songs. He can melt any girls' hearts. The talented Noy & SDN band, they've released the most sexy Lao songs ever. The Lao most exciting Alternative Rock band quartet, The Blackflame with brand new line up. The loud Moukie, the lead singer from Heavy Metal band, The Bohaln Band, the heaviest metal of all mother metal. And introducing Pass Due band. Watch promo.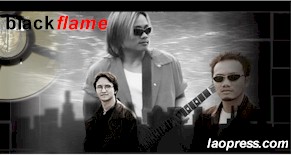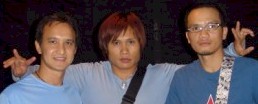 BLACKFLAME REALITY CHECK VIDEO +
Lao ultimate cool band, the Blackflame re-furnished their old website address www.blackflamecity.com. As documented, they burst into Lao music scene with first Reality Check album in early 2000. Then came their second album, Confusion. Not only this was one of the most anticipated release, this album also took you on a dark, exciting journey to alternative Lao rock music, and when you got there, you wanted more. They just finished shooting their music video so check them out. More info

Unplugged Qonkito

Nice weather really brings out big crowd with their music. Come and celebrate the finest music with Lao ultimate cool band, the Blackflame.
This song, Qonkito is one of their many great hit songs from the Reality Check CD. They help Lao music move into another level - something different, exciting and new - world-class level.
They pop into rock sounds with great noise and melody. It's awesome. The band is currently working on their third album
MEE MYSELF AND ...
He's bad. He's naughty. He is Lao I mean LOUD! He is a sexual machine. This action man is going solo looking for you girls to do French kiss the Australian style, Yes... Down Under. Guess who that is. Yeah, It is Mee. www.blackflamemusic.com
It's the album that everyone has been talking about. Not only it is one of the most anticipated release, this album also takes you on a dark, exciting journey to alternative Lao rock music, and when you get there, it leaves you want more....
HEY BABY LISTEN TO MEE
A group that needs no introduction, Blackflame will launch their follow-up album at the end of February 2002. It's called "Destination Unknown".
The mission here is to revolutionise Lao pop music. Listening to Mee then nothing else matter in this World. It's only you, Mee and The Blackflame's music. Marvellous!!!
These guys will give you timeless classic. Come with Mee to "Destination Unknown". So watch out for that BLACKFLAME.
KNOCKIN' ON THE HEAVEN'S DOOR
Recently I was talking to the lead singer of the blackfame, Van Amara who is also known as Mee. We were discussing on how his CD is doing in America after its releases a couple of months ago. Well, it has been blessing.
To his credit and his band, they believe that Lao music needs to move into another level - something different, exciting and new - world-class level.
These guys are group of friends who take up music just for hobby. All of them have good jobs and earn decent money. They just feel let down by music that coming out so they start doing something about it.
They rock into pop sounds with great noise and melody. I can tell you after listening to their music. It's awesome. One thing that they can be proud of is that all their songs are their own material. They are good.
They are now working on their second album. There will be surprise singer for you. He said that he's got this beautiful girl who can sing real good. It's for you to find out. Watch out for her.
One of their aims is to produce new singers. He said that there are potential youngsters in where they are (California, USA) who just cannot wait to be discovered. He has been working with them closely. They will have their own music label soon.
One thing that they always wanted to do is singing for a Charity concert in Laos. Singers from the USA and Australia have mentioned to us several times. Mee is one of them.
We talked with our partner in Laos about it. It's possible but We still do not have a grip on it yet. We did talk to Lao officials about it but it did not lead to anywhere. Anyway maybe one day something comes up.
They have been locking themselves in their rooms eating sticky rice and Pa Dark in search for a good tunes. They have several songs already. Mee said that their music is going to be the same that is pop/rock but better. Since they are now wiser and have more experience. Well, it won't be ready as yet hopefully it will be ready by the end this year.
We have good news for their fans who live outside America. We will try to get their CD in so you will have a chance to listen to their wonderful masterpiece work of art.
INTERVIEW
Message from the band: Very special thanks to our families and friends for all your love and support. Also Nu Kenekeo for all the graphic designs. You are the best dude!!!.
And most of all thanks everyone out there for taking the chance riding a bumpy road with us as we take our journey to the destination of unknown.