Jonny Olsen is the first Farang Khaen playing champion. He is coming to you bringing his own Lao traditional musical instrument known as Khaen with him plus his good look and not to mention his ability to showcase his Lao folk arts. He is well known thorough Laos and its immediate neighbouring country. He sings in Lao & has ability to play Khaen. In Laos he is known as Morlum meaning those who sing Lao traditional folk music known as Lum. He will perform in your town one night only so come and dance to the Lao beat that sounds like no other on earth! Beautiful! There will be local band supporting him and special quest appearance. So be there!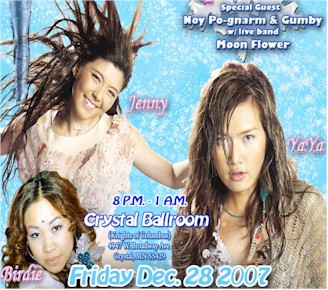 Here is the latest event to hit town during this Christmas period bringing three beautiful and hot BiRDS together. Girls power! This cool event will be held at Crystal Ballroom, 4947 W. Broadway Ave, MN.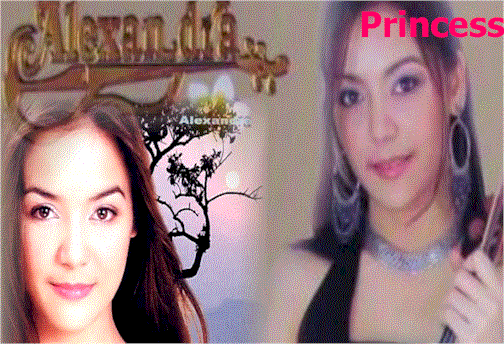 COMING TO AMERICA
Alexandra Bounxouei, Lao pop princess will be doing charitable concerts in America during November. So far three shows have been confirmed. She will be in Nashville on the 3rd of November, Atlanta on the10th and on the 17th she will be in Illinois. This will be her second time in America. Her entourage will extend including her family. For

this Princess it has been fabulous year after appearing in a few Thai television series.
In Columbus, Ohio She will put on a show with Lao country singer Phayvanh Mekaloun. Phayvanh has released several albums over years and has toured extensively throughout North America. here is a sample from Phaynah called Zyvid Kon.
On 24th of November she will be in Minnesota doing a show with award winning hip hop artist. This is for the very first time when Lao Princess of pop will share stage with Lao Prince Of Darkness, Lao own hip hop artist Gumby aka Pryce. Surely Sandra will get those 9999 Roses from Prince Of Darkness. To see concert concert video promo created by quirky Andy click here. More info>>>>

EVENT PROFILE
Venue: RACHADA
13416 E. Imperial HWY
Santa Fe Spring CA
Capacity: Everyone is welcome.
Hour: 8.00PM – 2.00AM
Fee: $AUS10.00
ONE SHOW ONLY!
Here is your chance to see Lao super stars live on stage in concert under one roof. The brilliant pop singer Sithiphone who sings incredible ballad love songs. He can melt any girls' hearts. The talented Noy & SDN band, they've released the most sexy Lao songs ever. The Lao most exciting Alternative Rock band quartet, The Blackflame with brand new line up. The loud Moukie, the lead singer from Heavy Metal band, The Bohaln Band, the heaviest metal of all mother metal. And introducing Pass Due band. Watch promo.
DOOR POLICY
Traditionally we have friendly and relaxed door policy.
SOUND @ PARTIES
Lao POP, Rock, Alternative, and heavy metal famous classics will perform by: Sithiphone, Noy & SDN band, The Blackflame, Moukie and Pass Due band
WHAT SET WE APART FROM OTHER EVENTS?
The music policy and the atmosphere created by the people attending.
EXPERIENCE
Great tune, great people, and nice atmosphere.