Sophie Nithada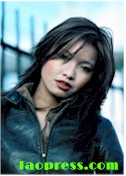 The time is certainly right for the world to discover a magnificent Nithada. The chic is a world class act.
Nithada lives in France and burst into French music in 2001 with debut single hit Viens Vers Moi. Her love of music started when she was 14. She is in Warner Music book.
She deserves to be judged on her merits. After countless hours listening to her songs and watching video live performance, she need not convincing me that she is formidable.
Visit www.nithada-online.com to sample her excellent masterpiece work of art, fabulous Viens Vers Moi, and unforgettable Pourquoi Pas Moi and live music video - She performs la difference and an almost reggae You Might Need Somebody.
The tracks have sweet melodies and shifting tempos. The good news is that they are good! Those two songs demonstrate the brilliant talent of Nithada.
Viens Vers Moi is a rich, honest, innocent and absolutely beautiful song. It has beautiful overall sound with fast moving beats. It's effortless COOL!
Sample songs are available at her website at
http://www.nithada-online.com.
Photo gallery
Song
Music Video – Live Concert
La difference
You might need somebody
Courtesy of Nkham producion