<![if !supportEmptyParas]>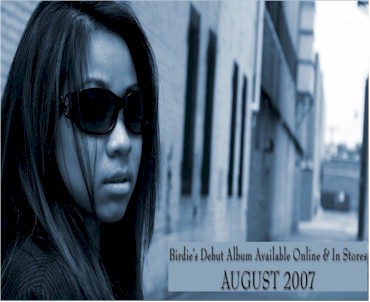 <![endif]>
<![if !supportEmptyParas]>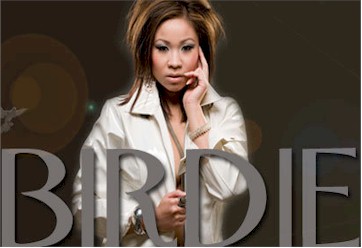 <![endif]>
THE HOTTEST & SAVVY BIRD
This pounding hip-pop/indie track is the latest single to be released this month by the hottest & savvy Bird around. You can hear the unmastered version of the track at her website. The mastering is being done by Tom Coyne, the same guy that Mastered Britney Spears music. Revolutionary new music format features include cover art, photo, lyrics & credits, music, forum, Facebook interaction, check out myspace.com/officialbirdiepage.
<![if !supportEmptyParas]>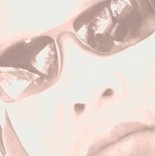 By Andy 5/4/08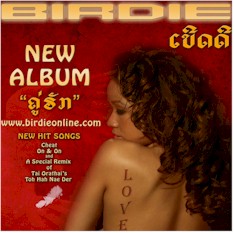 HUMMINGBIRD
The world is full of possibilities. Here is the latest from our sweet Bird. Blood in the Water Records proudly present Birdie's new CD "Lovebird". It will be available from mid May. Will this album be the most impressive which has English and Lao songs? Twelve are in English and two are in Lao to be exact.
Birdie will introduce these Lao songs to her international audiences. Would she be the one who will be responsible for the contagious of Lao music to the world? There are several international artists from around the globe with Lao origin. They have set the bar so high and have impressive curriculum vitas therefore this has in some ways evidently shown in the explosive of Lao music. Young Laotians are more confident of their artistic abilities. This hopefully will keep on inspire generations.
Here is the latest from Birdie. Lao Star Birdie will be releasing her 2nd CD "Lovebird" on February 5th 2008. The CD release will be after the day the your star sings that National Anthem for the USA NBA team the Minnesota Timberwolves.

The album will include between 10 - 13 songs with several of the songs on the album being in her native Laotian language.
ON STAGE
Here are the latest video of concert from Lao super talented artists. They are from different musical background. In this rare event they shared the same stage doing charitable concert. Alexandra is famous pop princess. Gumby aka Pryce Prince of Darkness is award winning and leading hip hop artist and then we have the latest sensation, one of many Lao international artists, Birdie. This is wonderful witnessing our array of top talents demonstrating their crafts. So enjoys!.
SEXY BIRD RELEASED....
<![if !supportEmptyParas]> <![endif]>
This pretty young songbird with awesome talent has released her sexy première album - "Underground Pop: Xposed". This continues the evolution. With the freshest vocal tunes, she will combine her passion for Hip Hop, Pop, and Soul and she blends her soulful sounds and rich tones into a new creative vibe all her own. <![endif]>
She is ready to pop. With the release of her ever first single from the most anticipated, celebrated album, her team has prepped for the final assault of the invasion. On her album she co-wrote some songs. Birdie may sound like some hot songsters from America. Well, she is and she also has the looks to match.
You may be able to sample her songs from her website but there are also new, unreleased tracks from this newly released album. There is no way you'll be able to resist the temptation.
Sexy is a hip-pop uplifting track with a rave synth into rap. It leans distinctly towards more mainstream hip-hop influence with plenty of soul. The track is certainly eyeing cross-markets. I'm a Bytch is a unique track with fusion of her oriental root sound with modern western RNB flavour. Interesting, unique and it sounds great. My favourite, Without You is a smooth, stand-out from array of unreleased exclusive tracks. This alum is so lush, full of tracks that slide all over you. Forget trance, forget RNB, forget rock – get Underground Pop: Xposed<![if !supportEmptyParas]>
This album is artful. It has tranquillity, attractive pop moment, and appealing voice eventually making it a welcome part of your day. This is fair to say "Underground Pop: Xposed" as being the album for all cool and hip. This looked like the start of brilliant career.
SONG BIRD<![endif]>
Contact: Disraeli Arito
Underground Pop has arrived
St. Paul, MN – April 30th, 2007 – Blood in the Water Records is proud to present our artist Birdie for potential venue and show bookings to you.
It is said that there are people who are born to sing. When one hears her melodic voice it is unquestionable that Birdie is one of those people.
Birdie, a Laotian American, has been criticized at times for her love of soul music. But it is this passion that has created the sound that will redefine soul music as we know it and place the term "Underground Pop" on the lips of all who hear her melodies.
Birdie is honoured to be featured in the Asian American Press later this month with a half page full color article. She is also a finalist in the upcoming May 12th CelebrAsian Event in Des Moines, the 5th annual that is expected to draw in a crowd of 43,000 plus.
She has also been busy performing around town, her most recent two performances at Trocaderos for the Laotian New Year's Celebration and at the University of Minnesota campus for a crowd upwards of 1,000.
Her debut album entitled "Underground Pop: Xposed", will combine her passion for Hip Hop, Pop, and Soul and blends her soulful sounds and rich tones into a new creative vibe all her own. The album will be slated to drop July 7th, 2007 on Blood in the Water Records. Her debut album showcases Birdie's ability as an artist, and will capture audiences worldwide as she reaches out to her Laotian heritage.
"Underground Pop: Xposed," is the eagerly anticipated first release from the Blood in the Water Records group. The label is launched by Disraeli Arito, in-demand producer, author, writer, creator and musician.
Songs like "Without You" highlight her range, while the rhythmic beats of "Til the End of Time" and "Sexy" showcase her natural talent. Her anthem, the single "I'm a Bytch", is available on her myspace page, http://www.myspace.com/officialbirdiepage.
Blood in the Water Music
St. Paul, MN
www.bloodinthewaterrecords.com
Here is the latest event to hit town during this Christmas period bringing three beautiful and hot BIRDS together. Girls power! This cool event will be held at Crystal Ballroom, 4947 W. Broadway Ave, MN.