Photo blog
MUSIC
Pop
Rock
Urban
Country
Lum
Lumvong
Video
SERVICES
CD SHOP
Chat
Our Community
TalkBack
Photo Gallery
LAOPRESS
News
Editorial
Food/Dessert
Art/Culture
History
Innovation
Proverb


Below is photo gallery of her new shop. We spent the whole day finishing off some minor details that needed to be done. For those who have not been there if you have some times please feel free to drop by. She and several of her staffs will make you most welcome. These are some services that they specialise in: manicure deluxe, pedicure with paraffin, paraffin treatment (hand and foot), eyelash extension, professional spray-on tan, body waxing (male & female), facial, massage therapy, make up, ear piercing or to find out more do contact her. Good luck sis!

Electronica, House, Progressive, Techno, Breaks, Trip Hop, Tribal/Jungle, Trance and Techno and more…

aVa Drum & Scratch

The Electronic Music forum covers a wide array of genres, and sounds. Electronica, Techno, Progressive, Trance, House, Breaks/Break Beats, Trip Hop, Drum n Bass, and Tribal/Jungle are only some of the genres Electronic Music covers. The DJ, the producer, the computer application(s), the pre-recorded sounds, the tracks and the sets are only some of the components creating the final work presented at an event. For those of you unfamiliar with Electronic Music hopefully this may get your heart racing, feet tapping, head bopping, creativity soaring, and most importantly get ya feeln' alive!
Electronic Music is everywhere! More info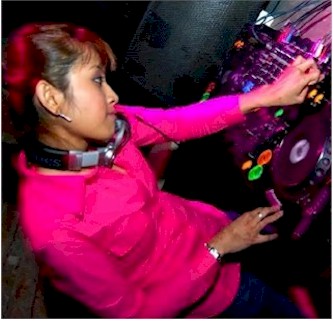 One of the coolest & pretty turntablist from Kuala Lumpur, home of tallest twin towers in the world and Milkii Hani. In the art dominated by the likes of male Mixmaster & DJ, Milkii could be one female DJ forging the progression of rave music into Malaysia.
Milkii exposed to music at tender age of five. She plays several musical instruments including organ, piano, guitar and keyboard but her real passion is no doubt mixing, scratching and juggling of sounds of music. This has to be heard and seen to be appreciated. Check out her sound here.
Moving into big city of Kuala Lumpur, Malaysia in 1999 then obtained education, got herself a job, saved up to take another chance in life experiencing high spiritual and lovable moments of journey in the pursuit to happiness & success, before finding herself drawn to turntablist scene. She is in complete awe.
Beginning of the year 2008, Milkii Hani decided to join Royale Academy DJ School aka Excessive Records, Kuala Lumpur under probationary of the Guru, one of Malaysia pioneer's DJ Bryan Burger for learning and skills guidance on her DJingg efforts. From there, she is really coming into her own. Then Milkii inspires to seek out new challenges in DJing variable sounds such as techno-tech, house, progressive trance, tribal and disco house.
She landed in the land of million elephants showing us good vibrations along side local hip hop gangsta LOG and other mobsters at Dansavanh night Club. Check out our video and links below to get more in pretty Milkii Hani. More info >>>

THE ILLEST MUSIC
Introducing the coolest DJ around the town . He has been bringing his music remix to the world massive. He is on the way up to the top of his game . And he is about to conquer a lot more territory. He recently released compilation which can be heard at his website. He graces the groove of the world's hottest urban music. He quickly acquires reputations as skilled performer on the world hip hop circuit. For more info>>>>