ToTo Boutkaska
LAO MODEL
By Andy 15/3/08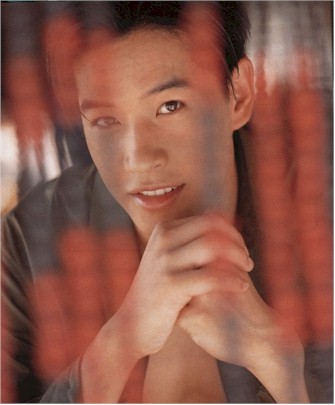 Here is another highflying Lao model who makes himself a permanent fixture in Thai media. His name is Toto Boutkaska. Toto was born in Vientiane, Laos. He has two sisters, one older and younger. Father is Lao and mother in Chinese-Thai living in Laos. He grew up in Sydney, Australia and went to University of New South Wales. Currently, he is earning his craft in Thailand.
Back in my younger years while I was studying at University of Western Sydney in early 1990s with his sister, Surin. As a young fresh face poor entrepreneur, I did organize some concerts and fashion parades. It was purely an excuse to just hangs out with gorgeous models. Toto helped out with his good looks by modeling for laopress.com. That might be his first ever catwalk. You can view video of him in full flight on the runway. See video. He was instant hit amongst lady fans.
He then moved on in search of international fame and fortune by moving to live in Singapore then Thailand. Within weeks, he appeared in print media. He also appeared in music video. See video.
Toto loves eating unique and tasteful Lao foods. His favourite is Tum makhung, known famously around the world as green paw paw salad. Laotians introduce the art of eating green paw paw to the world and evidently green paw paw has its own aisle in supermarket everywhere you go globally.
Toto is proud Lao & fluent in Lao. He taught himself to read and write in Lao. He came to Australia at the tender age of four. Vientiane, Laos is only an hour flight away from the fast pace Bangkok where he lives and works. Monthly escape to Vientiane is a way to recuperate.
Apart from serious modelling stuff, he is also working in corporate environment as Business Development Manager with Samsung and at the same time he is a professor at University of ABAC, Thailand. He is only 35 and still available.
What sort of woman that catches eyes of this successful young man. According to interviews from Thai presses. He likes woman who speaks with authority and intellectually sound, a woman who has good loving heart and cares for the well being of others. That sounds like Lao girl to me!
Does he listen to music? His dad is a fan of Lao music. Well, as a young lad he listened to Lao music with his father. He recalled K. Viseth. His favourite Thai pop band is Rainbow.
Fashion Parade video I by Laopress.com model by Toto <Click>
Fashion Parade video II by Laopress.com model by Toto <Click>
Toto in Thai Music Video
Music by NICOLE THERIAULT