ALEXANDRA THIDAVANH BOUNXOUEI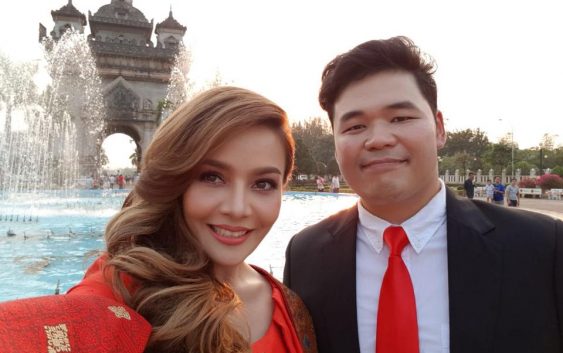 The most well known, young, beautiful, poignant, articulated, talented diplomat of Laos is no doubt is Alexandra Bounxouei. She has toured across continents – Europe, America, and Asia – Laos, Thailand, Korea, Japan, China….representing her country as well as herself performing her music. Thus she puts her coun
try on the world map. People are noticing.
Born to Bulgarian mother and Lao father who both work for Ministry of Information and Culture. Sandra speaks Bulgarian to her dad and Lao to her mum at home.
Piano is her first instrument that Sandra learns. She also knows how to play several instruments. But she is widely known for her beautiful playing of violin, an instrument that is hard and take long hours of practice daily to master.
Apart from Lao, Bulgarian and Thai, Sandra is also fluent in English and Japanese.
She has offers to further her higher educations from several countries namely France, America and Australia. Parents prefer her to come to Australia when is ready since there is no need for her to learn new language, for example French.
Currently, she is staring in a popular Thai television comedy series as a leading woman showing on prime time, a story about young Thai guy, Wier Sukollawat Kanarot falling for typical Lao girl, Alexandra Bounxouei. The show is Pleng Rug Rim Fung Khong
reloaded….
MUSIC VIDEO
More personal info
Genre: Pop
Residence: Vientiane
Facebook: Alexandra Bounxouei
Youtube: Alexandra Bounxuei
I N S T A G R A M: alexandrabounxouei
Breathtaking is the word to describe this young, beautiful, articulated, talented ALEXANDRA, another hot, up and coming Lao artist. Here comes ??
Sixteen year-old Thidavanh Bounxouay is a new phenomenon in the entertainment scene in Laos, reported VOANEWS.COM.
Music is in her blood. She plays violin. Her parents graduated from Music Academy in Bulgaria.
The moment in Alexandra is the day that she released her debut album, DREAM. Some would say it's a dream. Few would argue. To ALEXANDRA, this DREAM is a reality. And it?s her golden moment.
Eight of the best brand new pop/rock songs feature in her premiere album, DREAM. Produced by LAO ART MEDIA