NAUGHTY GIRL
Effortlessly swirling between lush and the thick bass sound coming from this awesome Morlum is this stimulating Lum Siphandon from Tingnoy. It's a folk music that originated from the southern part of Laos. Specifically, it's from 4,000 islands area locally known as Siphandon. This song is called "Hao Thien Mod" meaning "Low Spark". After a good listen to this excellent track and an uninterrupted watch of this hot music video, I feel physically revitalise and rejuvenate even coming this hard man who love the finest thing in life. Every senses in me rise. I am alive. What a song and what a beautiful singer! More info >>>
BEAUTIFUL FOLK SONG
Latsamy Phoudindong has emerged as the main songstress for Morlum. With her exotic name, lovely smile, sexy eyes and absolute gorgeous voice, she appears to be a creative force behind re-emergence of Lum. She has restored Lum to its former glamourised past. This is one of many types of Lao traditional music originated from the Land of Million Elephants. This music video demonstrates how our Lao folks entertaining ourselves for generations. This is an absolute highly competent presentation of Lao folk music at its best. More info >>>>
LAO FOLK ROCK
Toy is one of my favourite Lao folk rock artists. He's rarely released ordinary songs. This is another great folk rock song about life from a very artistic Toy. Great track.
SING & DANCE OUT OF POVERTY
Champassak, a southern province of Laos will become the tourist haven of Laos. Major works have been done to accommodate influx of tourists. Other important projects that have been done to light up and modernise the southern province are the building of hydro electric dams. Many remote residences of the southern city are now having the ability to connect basic power needs generating from these dams namely Sephandone area (4000 islands area). This is one of the areas identify to be the hot spot for tourist. Not only the local people benefit from dams being built, electricity will be another source of export incomes. Pakse airport has been undergone heavy innovation with the hope that people can now fly direct to Pakse international airport.
LUM SALAVAN
There are many styles of Lao folk music which originate from the southern provinces of Laos. Lum Salavan is one of them. Salavan is of course a province of Laos. For obvious reason it is Salavan Province that is where Lum Salavan originate from. Almost all of Lao recent leaders are from the southern province. Kaysone Phomvihane, Nouhak Phoumsavan, Khamtay Siphandone, Boungnang Vorachith and Bouasone Bouphavanh are all from the south. Did you known the current Lao Prime Minister Mr Bouasone Bouphavanh is a native of Salavan. More info>>>
KUP LUM FROM THE NORTH
Another fantastic Lao folk music originate from the northern province of Xiangkhouang is simply known as Kup Xiangkhouang. This is beautiful! Did you know the capital city of this beautiful province is Phonsavan. Originally known as Muang Phouan, the famous Plain of Jars is located here. Weather is generally very cool as well as the accent of the people from this area. More info>>>
LAO FOLK ROCK
Another beautiful sound which echo out of temple during festive season is this exonerated sound of Pinn. Pinn, Khene and Gong are the basic instruments to pump up the sound of lum. Today many Lao expatriates around the globe appreciate Lum more and more than any forms of music. There have been many famous Lao folk artists known as Morlum travelling overseas to help out boosting the Lao festivals all over. This is another great example of typical Lao folk music demonstrating by Ajarn Thorn Phuehugphay playing Pinn.
BUSINESS AS USUAL
Here is one cool lyric-smart, laid-bare and though-provoking folk rock song from southern part of Laos known as the land of Champa. It is the only place on earth where you can do island hoping between four thousand islands, fresh water dolphin watching and the most preferred location for big company to do business such as logistic transportation, manufacturing, packaging, processing etc..with guarantee satisfying returns. Hongseepe from chappy Phoukaovarn Chanthachack is a very cheeky song about those – yep, enterprising. Specifically, it's about the boom business of rice milling. Lao folks rock! I am definitely in the wrong business. More info >>>
This is another beautiful country love song from Phoukaovarn Chanthachack called "Yakpenthi Syta" meaning "Look My Way" from album with the same title. It's written by Khamphet Sychantho. Simply outstanding! More info >>>
This is another great country hit song from young sensation folk artist, Noymany Sokeosy. It's "Thanna Thanggun" meaning "Classic Lady" from his album called "Huk Sao Mor 5". Simply superb! More info>>>
One of many princesses of Lao country folk artists, Leena has recorded her evocative and honest tune. Lao Folk rock music is about making people dance whether under darkness night sky of million stars or under merely the flashing lights of mirror ball. It can be simply quiet or loud, complex or delicate. Here is how Leena bring her music to life with her song called "Koiyuk Mipoua" meaning "It's My Lucky Year". There is even more reasons to get over excited of this song after watching her music video. Not only she's gorgeous and sexy lass, she can sing. More info>>>
SONG FOR MOTHER
PH Studio is responsible for producing some of the best known country songs for the famous three brothers of the Nouhoung. Sao Dongdok or Sao Simeaung songs were some of the most famous songs in their time. Phonh is the man behind the studio. The latest album made by PH Studio is Sesumack's Kidhot Baan Berd album. If you like to have midi files for karaoke singing, you can download or order from Phonh. This is Lum Putia by Mekkhala Sathaphone. It's called Om Kodmae meaning Mother's Love. It's a perfect song to have it played for your mum for Mother's Day. It's written by Master Seangdara Phakathong. Cheers. >> More info <<
TYPICAL LAO FESTIVAL
This is what you expect during Lao New Year Festival in the Land of Million Elephants. It's so cool! People from around the globe come to experience Lao unique culture and dance to Lao Folk music. So be prepared this year & go to Laos to get cleanse or be cleansed and be cool.
Lum Laung Prabang
This is simply known as Kub Laung Prabang. It's traditional Lao folk music originated from the World Heritage City, Laung Prabang.
Lum Tuey
This is another type of Lao tradition from central Laos. It is Lum Tuey by one of Lao country star, Sangduen Chanthavixay. More info >>>
Lum Tungvay
Here is another type of Lao folk from originated from the southern part from Laos. This is Lum Tungvay by Sangduen Chanthavixay
LUM SALAVAN
Another Lao traditional or folk song from the southern part of Laos known as Luk Salavan. Salavan is one province in the deep south part of Laos.
Lum Long
Lum Long is basically a Lao folk music which we used to tell stories from one generation to generation. It mainly uses in Morlum Leung, literally means Telling Story by Singing. This one is the hard core Lum Long – that is singing accompanied by Lao traditional instrument called Khene only. Love this! More info >>>>
LUM SYPHANDON
This is another type of Lao popular folk music from one of the most famous places in the southern part of Laos. Syphandon is locally known as 4000 Islands among Mekong River. Nice, I like it!
LUM PUTIA
Lum Putia is another type of many folk music originates from the southern part of Laos. Did you know there is a specific dance associated with each style of Lum. For those who would like to learn how to dance to Lum Putia then this music video may come valuable. More info>>>
LAO FOLK ROCK
Here is another superb music video demonstrating how our Lao folks entertaining ourselves for generations. This is an absolute highly competent presentation of Lao folk music at its best. It's undeniably irresistible. The sound is simple, pure and smooth. As for this Morlum, she has a serviceable voice and stunt looking. Traditional instruments use exclusively to bring out the Lao beautiful sound. This is another type of Lao folk music. This is great, traditional Lao affair with a modern veneer that you can dance joyfully to. More info>>>
MORE LAO FOLK FOR YOU
This music video demonstrates how our Lao folks entertaining ourselves for generations. This is an absolute highly competent presentation of Lao folk music at its best. It's undeniably irresistible. The sound is simple, pure and smooth. As for this Morlum, she has a serviceable voice and stunt looking. Traditional instruments use exclusively to bring out the Lao beautiful sound. This is known as Kub Ngeum, another type of Lao folk music. This is great, traditional Lao affair with a modern veneer that you can dance joyfully to. More info>>>
HOT & STEAMY PINK RASSAMEE
Here is another sweet, mood elevating song by Pink hot and sexy country rock artist goes by the name of Pink Rassamee. She has many hot and steamy songs such as Seepenbaur, Yalumbanlao, Tenkin & Lumkin, and many more.....This is a classic and beautiful country song by this gorgeous singer called Thanghug Thanghaang meaning Lover Lane. More info>>>>
DID YOU KNOW...
Willy Denzey is French RNB singer. His parents are from Laos. He got nominate for Best Male Artist of the year in France, In what year - was it in 2005, 2006 or 2007?
LAO SPIRIT
Another great live performance of Lao classical folk song known as Lum by great band. This video also shows how our Lao spirits are being used to glamorise Lao folk music by demonstrating that Morlum is as hip as pop/ rock, techno or hip hop music. For me, I am a fan of Lum. Watch the hand of the guy playing lead guitar. More info>>>>
KONLA VONGSAMPHANH
Growing up watching lots of Indian movies, naturally there are some Indian influences in our music. This is a song by a versatile rock band Konla Vongsamphanh. More info>>>>>
LAO CLASSICAL FOLK MUSIC - MORLUM
Here is another Lao classical folk song from famous Lao songstress. More info>>>>>>
SOME LIKE IT HOT
These are the latest pop songs passed to me by radio disc jockey lady friend of mine. They are soulful Kaur meaning Please and another beautiful ballad love song called Yakmefan meaning Want to Love Somebody. Kaur Yakmefan are for those lonely hearts out there who wishfully want to fall for the right mind one and click! These are true great pop songs.
SONG FROM THE HEART
Song From The Heart is a song by Ongkane Sombounkhun. He is from Lao Art Media. It is from "1 Nydoungchai" album meaning "One and Only". It released a few years ago. This song is written by Vixay Kyvongxay. Feel free to shake off stress or show off your cha cha cha.
LAO NEW YEAR IN TEXAS
A video diary of Gumby aka Pryce in Texas celebrated Lao New Year with his homeboyz.
LAOS POP CULTURE EXPOSED
Recently Matt Lauer from American number one top rating Today morning show broadcasted live from Vientiane, capital city of Laos - the land of million elephants. It was new initiatives from NBC under "Where in the World is Matt Lauer?" . He conducted his show live from various cities. So far here are some great cities where he broadcasted from. They are Buenos Aires, Amsterdam, Vientiane, Istanbul, and Seychelles. He stood in front Phra That Laung Stupa and announced to America he was in Vientiane, Laos "live".
From Laos he showcased Lao colourful silks, unique cultures, peaceful religion, authentic foods, unspoilt and exotic country village lifestyle including beautiful Vientiane the capital city, classical folklore music of Laos, pop culture in ever explosive environment since his government decided to bomb Laos a few decades ago. He chatted with famous artists who will soon release their upcoming productions such as movie star Ananda and singer Aluna to obtain inside information how in just less than a decade Lao pop culture has managed to explode and has gone beyond its frontier. More info >>>>>
LOVE INSTINCT FEELING
Here is the latest from brilliant young talented singer/song writer home grown pop princess - Aluna. Just recently appeared on NBC Today Show with Matt Lauer explaining her love of making music. This is a preview of her second album called "Aluna Part II " . This song is called "Komhuseukbok" meaning "Love Instinct Feeling". Some of her songs are mostly mixed in both Lao and English. More info>>>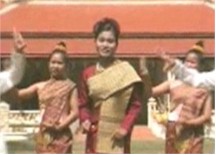 Two outstanding songs by this gorgeous Vanvisa Phothiraj, they are Paurhang Still In Form (meaning Divorcee Still in Form and Yalaung Hikoy (meaning Don't Let Me Keep Hanin' On). They are known as Lum Teuy. Watch these two video, they demonstrate the proper dance moves for this type of Lum performing by Lao National Dance Troupe. Did you know for each type of Lum there is a specific dance moves for that specific Lum. More info >>>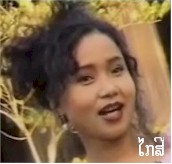 Casy Vangverkong is proving to be as versatile. We know that she is a great country singer. Lum Ban Xok is another brilliant classical folk song from her. This is northern style of Lum. As you might be aware that people of Laos divide ourselves into three categories according to the altitude at which we live. They comprise of Lao Loum, Lao Theung and Lao Sung. This video demonstrates how women from three ethnic groups dress in their traditional customs. Singer dresses in Lao Loum. Dancers are in Lao Theung and Lao Sung. Another important facts as you move northward of Laos, Lao dialect progressively change. So this means that we can tell which part of Laos we are from by listening to how people talk. This also reflexes in how our Morlums sing. More Info >>>>>

The fourth song is by young and cute Morlum. It's Hug Sao Lao (meaning Love Lao Girl). This song released in early 2000s. It's fusion of Lao Loum lum and Lao Theung Lum. Not only this is for the very first time that any Lao Theung song has made it to the main stream in Laos. It has also become very popular in neighbouring countries. Usually lyrics are in Lao and dialect from Lao Theung or Lao Sung.
THE SOUND OF LAOS
This is traditional music from Laos. Studies have been conducted on Lao folk music many occasions within and outside of Laos. As you may be aware of there are many styles of Lum depending which part of Laos you are familiar with. The more predominant onces are those from the southern part of Laos. Certainly they are still popular among local and expatriate. These are raw sounds out of Laos. They are just simple sounds comprise of mainly Lao instruments. More info>>>>
<![if !supportLineBreakNewLine]>Another rising star from Laos is young sensation Noymany Sokeosy. We have two excellent songs by this handsome young man from down town Vientiane. They are beautiful Kid Hot Jing Toma and unforgetable Pibomay i Kohug. <![endif]>These two outstanding songs are typical example of Noymany's songs. They are from VideoCD album known as Yamae Mobile Phone. This style of his Lao classical folk music is called Lum Lern. More info>>>
Here are some of the best Lao folk songs from young and beautiful Kularp Meaungpiey. These folk music originated from the land of million elephants from the very North to ass end south of Laos long long ago. Up to this day they are still in fashion and very much so popular as ever.
Kup Toom and Kup Xiengkhaung represent the northern style lum. While Lum Putai and Lum kornswan are from middle part of Laos. And of course Lum Salavan and Lum syphandone are southern styles of Lum. For which ever style that you come across you will still be mesmerized by its
sounds
and rhythms .
T<![if !supportLineBreakNewLine]>here has never been any places or functions whether it's in Laos or overseas around the globe that I went to, where ever these Lums are played, dance floor are overrun by young and old showing off their dancing style. Marvellous to see! More info>>>>
KIDHOT SALAVAN
These days everything come as a package. Well, say that you are looking for partner(s). You do want someone who are confident, independent and beautiful. Sao Hi-tech are above the less. As good as you can get. Yes.. we have more Lum songs from Chanto Sopha, Lao folk song specialist. He was amongst our first to be featured here at laopress.com with ultimate satiric cool song, Sao Hi-tech. That escalates him into stardom. Now we add three more excellent dance folk songs: Lum kornswan, Lum Tuey and Lum Salavam for your entertainment. Merry Christmas everyone. There is good feeling all around. 2007 is going to be excellent year. More info>>>>
LUM DERN RE-LOADED
Definitely one of the best respected album released. This CD packs with Lao best country music plus the very best of Lao folk music known locally as Lum. This is a remarkable debut album from this singer / songwriter from Vientiane, Laos. More info>>>>
BACK TO ROOTS
Did you know we uploaded two more Lao traditional songs for your indulgence. This type of music style is locally known as KUP TOOM. It's one of many Lums (Lao folk music). As well documented, these days our young rising hip hop artists fuse these Lao Lum styles with modern sounds to give their new songs a distinctive favour uncommon with urban and hip hop scene today. The impressive line up includes Lao's own hip hop players such as Gumby, Illphatic, Laos Family, Supasang, Doeboy, Ting, Singhey etc..... So see for yourself how it starts. This is Kup Toom (kup toom #1, kup toom #2) . More info >>>>
Jonny Olsen is from L.A. California in the U.S.A He can sing Morlum and plays Lao traditional intrument known as Khaen. He learned in Thailand and Laos. He made his cd titled " Farang Yak Bpen Morlum". Did you know Jonny Olsen won a khaen contest in Khonkaen province , Thailand. He is the first westerner known to win a khaen playing contest. More info>>>>

TALENTED & BEAUTIFUL

Introducing another Lao super star, Malaythong Yingswat known as Panoy. She is also well known across other side of Mekong river. She had travelled thousand across the ocean to the United States of America to perform. This type of Lao classical music in Laos is known as Lum Pern. Lao classical music in digital and modern society or known as western civilisations are very popular amongst expatriates. For info>>>>>
Two excellent of
Lao southern folk songs from two masters of Lum from Champasack province, Ajarn Sangswan and Lasmy. Master Sangswan spits his Lum Konswan. it's still very popular there.
Lum Putai
is by Lasmy Kalothong.
These are two great classic style of Lums coming from the southern part of Laos.
So enjoy these two popular Lao folk songs. More info>>>>>

THONGVONE KHUNNARA
Thongvone was so famous after the release of her third album. At parties, functions or concerts all you can hear was her songs. She toured France, America and did some concerts with LaoPress & Entertainment in Sydney, Australia.

When you feel bored or feel like listening to something. If you are Laotian the first thing that comes to mind is naturally LUM. Yes, lum is one of a therapy that is ready available for every Laotian.
No wonder that this album is selling like crazy. Due to popular public demand we will re-release the album again. It will be available here at laopress.com only. If you do not have this album yet it's well worth your while to have in your collection. It is being digitally re-mastered. More info>>>
Nouhouang Brothers are the world best More Lum. They are currently working on their latest album. They are so famous, WHY? Well, you don't have to be a rocket scientist or brain surgeon to work out why. Firstly, they can sing and lum. They've been consistently releasing brand new and quality songs. And not least good people, PK Productions, are looking after them. [More info]

SWANTHONG
One the best female vocalists for more-lum. You probably have heard of live version of this song but it has not officially released anywhere yet. Hear it from us first. She is one of the best & sexiest Lao star who has tremendous power behind her voice. Very nice song indeed!!! More >>
What can I say about this CD. This guy has the best vocal to lum. He utilises his asset to the most of its capacity. With good lyrics and tunes, he makes lum so simple and beautiful to listen to. Don't just take my words for it. well, download it. It's free. Tell your friends about it. More >>
One of the best lum CD that we have. This song is an example of many types of lum that we, Laotian have to offer. It's one of the most fun song in its category of lum. More >>