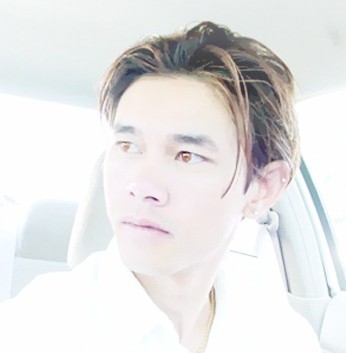 It took until 2000 for his fame to match his talent.  That was when he released Sao online.  His latest is "Hao Pen Kon Lao" meaning we are Lao.  Some describe him as sex symbol other know him as guitar magician.  This cd was done as a band and its featuring Kou. There are some sample tracks at  site.  11 brand new tracks in all.
Phouvanh Mekmoragoth is widely known for his creation of great music and he is simply known as SARKY.  He lives in Connecticut (CT).  This is where he is working on his latest album.
Sarky has released five albums. The sixth, he is about to finish.  His first album, Mekmoragoth released in 1986 – 1987.  The second album released a few years later called Mekmoragoth II.  The third and fourth Mekmoragoth released in 1991 and 1994 respectively.  He also released his solo album in 1991 called "Phouvanh".
After writing many songs and making several albums, Sarky was signed by Grammy, a Thai music company to play lead guitar for The Exile.  The Exile is still one of Lao hard rock pioneer.  Where in 1996 they released their international debut album.  Together with the Exile they made music videos and also appeared in Thai media.
Now Sarky is back in studio making more music for Lao people of the world.  The up and coming album will rock and pop into World Wide Web.  Thousand and thousand of Lao music fans around the globe will surely hear his music.
[sz-ytvideo url="https://www.youtube.com/watch?v=VXS76YEVZvY" theme="dark" cover="local" responsive="y" autoplay="n" loop="n" fullscreen="y" disablekeyboard="n" disableiframe="n" disablerelated="n" delayed="n" schemaorg="n" /]
THE INTERVIEW
laopress.com:  what is happening these days musically?
SARKY:  Musically, our music video project is on hold because of re-location, second album is in the making, and forming a new band in Northern California ( soon to be update).
laopress.com:  where do you think sarky is headed?
SARKY:  Sarky is very occupied with his new projects.
laopress.com:  have you always been into music?
SARKY:  Always have been & it's probably the only hobby that can not quit. 
laopress.com:  how many instruments can you play?
SARKY:  guitar to Si-sor (trying), piano, bass, drum…but not wind instrument <<<< (someday)…on a wish list right now.
laopress.com:  apart from music what are some of your interest?
SARKY:  camping, hiking, movies and love dancing but can't dance <<<<shhhhhh.  Love exotic cars.
laopress.com:  what sets your apart from the rest?
laopress.com:  you have written a lot of songs, have you favourite of your own?
SARKY:  Love every songs.  Snay Sao Kon Gharm is for
romantic,  Gap Ma Hug Gun Yay is for meaningful, and Kon Hed garn is fun and cheerful but down to earth song.
laopress.com:  How happy have you been with the response to your last album?
SARKY:  Very happy to have tremendous supports from fans.  Many royal and new fans have visited www.sarkym.com to sample our sound of music and leave many positive and encouraged messages.  We are delighted!  Very happy to know that we have many supporters out there.
Finally, Sarky would like to say thank you to all our fans and  promoters around the world.  Special thanks to www.laopress.com and Lao Artists Club who always follow up and have never given up on Sarky, even when you didn't get his reply.  

Thanks Andy, and we shall keep in touch.
SARKY:  Sarky is a perfectionist.  For example – The recording of the recent album finished a year earlier before he finally released it.  We weren't happy with the first cover design so we had to re-design again.  It took three months.  And re-master took six months just to get the sound that we're happy with.