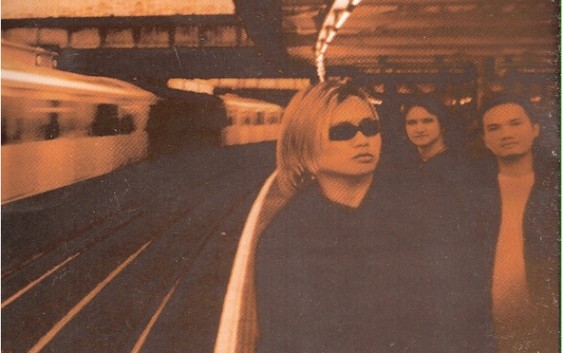 These guys are group of friends who take up music just for hobby.  All of them have good jobs and earn decent money. They just feel let down by music that coming out so they start doing something about it.
They rock into pop sounds with great noise and melody.  I can tell you after listening to their music. It's awesome.  One thing that they can be proud of is that all their songs are their own material.  They are good.
They are now working on their second album.  There will be surprise singer for you.  He said that he's got this beautiful girl who can sing real good.  It's for you to find out.  Watch out for her.
One of their aims is to produce new singers.  He said  that there are potential youngsters in where they are (California, USA) who just cannot wait to be discovered.  He has been working with them closely.  They will have their own music label soon.
One thing that they always wanted to do is singing for a Charity concert in Laos.  Singers from the USA and Australia have mentioned to us several times.  Mee is one of them.
We talked with our partner in Laos about it.  It's possible but We still do not have a grip on it yet.  We did talk to Lao officials about it but it did not lead to anywhere.  Anyway maybe one day something comes up.
They have been locking themselves in their rooms eating sticky rice and Pa Dark in search for a good tunes.  They have several songs already.  Mee said that their music is going to be the same that is pop/rock but better.  Since they are now wiser and have more experience.  Well, it won't be ready as yet hopefully it will be ready by the end this year.
SONG
Eleven (11) songs from fantastic album called Confusion
Update Required
To play the media you will need to either update your browser to a recent version or update your
Flash plugin
.
Ten (10) rock songs from Blackflame première album called Reality Checked
Update Required
To play the media you will need to either update your browser to a recent version or update your
Flash plugin
.
VIDEO
PHOTO GALLERY
THE INTERVIEW
laopress.com:  what is happening these days musically?
Blackflame:  If you mean the rest of the world,  I think it's awesome!! There are so many new ideas, flavours and directions. I love them all. 
But if you ask me about the Lao Industry?  I honestly think We are getting better……….
Lately, there're a lot of new artists poppin' up, I think it's great.  But the "SAD" thing about it is…..the majority of them are still stuck with the 80's tunes.  What's with that? Don't you think or feel that we all should move on with the rest of the world?…..Just my tiny opinion.
laopress.com:  where do you think Blackflame is headed?
Blackflame:  We ask ourselves that same question everyday.  I'd like to say that we gonna be here making music forever…you know that's a F**kin' lie.  We just take one day at the time.  Right now, we're doing mini tour locally & rehearsing and we'll be heading to LAOS in the November for the whole month.  Hopefully, after Laos, we can continue with US tour.
Also we're looking forwards to do music video if we ever get a chance to. Hehehehe ……….
Laopress.com:  apart from music what are some of your interest?
Blackflame:  I love sports!  Indoors or outdoors, from surfing to snow boarding. I also play basketball, football and soccer whenever I get a chance.
laopress.com:  Favorite stars??
Blackflame:  WE have so many.
laopress.com:  what sets your apart from the rest?
Blackflame:  We're TRULY original.  And as a band, we are very open-minded and always want to try new things.
laopress.com:  how do you describe your music?
Blackflame:  Alternative rock!  A combination of many sounds and directions.  Like others, we have a lot of influences, but when it comes to composing, we always keep our music UP-TO-DATE.
Note: Our lyrics are very inspiring and encouraging.
laopress.com:  you have written a lot of hit songs in your time, have you favourite of your own?
Blackflame:  We write most of our music and I write most of the lyrics on my own afterward. They base on our personal experiences and environments that we're in. Sometimes, Alex (Drummer) writes me stories base on his experiences then I just convert them into songs.
I love every songs!  but there is one which is my all time favorite, "Nang Fa".  This song means so much to me, 'cause it was a special time of my life when I wrote this song and it only took me approximately 30 minutes to write.
laopress.com:  what do you love most about music?
Blackflame:  Everything!  But the bad thing about me is….I can't seem to listen to the same old thing all the time.  In fact, I don't buy CDs any more 'cause I would just listen to them once or twice and throw them aside. I like to listen to Radio, I hear different songs all the times, it keeps my mind open.
laopress.com:  How happy have you been with the response to your latest album?
Blackflame:  I'm happy!  Though people are expecting or preferring to see us on VCD or DVD. It is something that we are working toward.
laopress.com:  when is the last time that you think that your are the luckiest person ever lived?
Blackflame:  NEVER! If I've won 10 million bucks maybe I would. HEHEHE
laopress.com:  what song do you always do onstage live?
Blackflame:  Nai Oam Ka,….always on the top of the request list.
laopress.com:  how different is the second album to the first?
Blackflame:  We've learned so much from our previous or première album, As a result we are very happy with our second album!  Oak (guitarist), connects the missing puzzles that we were searching for as Blackflame.
More information about Blackflame here