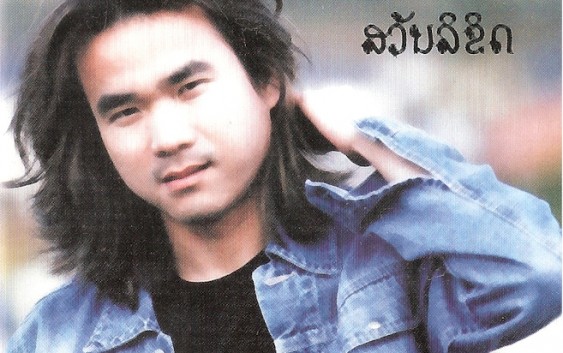 The next big Lao thing?  Well, if you take Mike's latest album, "Made In Heaven", as an indication then it is.  It's out now.  While music is getting angrier and the World is full of chaos and suffering and people are getting nastier, forget them.  Get this CD into your life.
This album has ten brand new songs.  Romeos, the illustrious romantic guys on earth, Mike, Xay, Vila, Bay and Pin, write them.  Fans have already tasted few sample tracks from this album from laopress.com – jumbodi, Ya R Lie, Nang NiFun.  They are good.  Other songs in this CD are equally as fabulous or even more.  They're rock!  There's serious song writing here.
After having been building hardcore fan base & huge success world wide, Mike explodes again.  These beautiful ballads BoPenYang, Kamtamnijoy, Ya R Lie will get you into mood.  While Jumbodi, MalongMay will get you up and Paytadsinjoy, sengjoy, Bossa On provide testosterone.
Mike continues the good tradition of releasing a consistently large number of quality songs.  And you can see why his standing as Lao finest rock/pop star & reputation continue to grow.  Get the excitement and fun going if you get your hands on this fantastic latest album from Mike Petcharene.
SONG
Ten (10) pop & rock song from Made in Heaven album.  Recorded at Fanfam Studio in Sydney, Australia.
Update Required
To play the media you will need to either update your browser to a recent version or update your
Flash plugin
.
Update Required

To play the media you will need to either update your browser to a recent version or update your

Flash plugin

.
So you have been a Lao music supporters for many years.  You feel that it's just getting bigger and better every minute and every hour.  Let me tell you that you are not wrong.  It is because we have a man such as Mike Phetcharlune who comes up with hit after hit.  Tell you what he is also one of a leading lead guitarist in Australia among our community.  He is a regular quest performer at our concerts.  Who said that accountant is boring.
LaoPress & Entertainment is very happy to be the first to hear his upcoming album.   It is going to be huge, absolutely huge!  It is pop music and will be available at our web site soon.
Laopress.com has world exclusive interview with one of Laotian greatest pop/rock stars, Mike Phetcharene.
Mike talked about his new album, music video, country he wants to do concert, his music, his very first song he recorded, an artists who have influence his music most, and story behind one of his greatest hit song.
As you know from his previous album.  The music and lyric are world-class quality.
He is working on his latest album that pop/rock flavoured.  He arranged all songs in this latest CD with support from Vila from AAA band and Noh from Déjà Vu Band.   He produces and edits all of his latest music video.
Eight songs already finished.  New album will have 11 brand new songs.  It will be ready by the end of this year, 2001.
MUSIC VIDEO
Watching Mike Phetchareun's music video "ຈຳບໍ່ໄດ້"

Posted by Andy Chan on Monday, November 5, 2018
The Interview
laopress.com:  How would you describe the resulting sound of your new CD?
Mike P     IT ROCKS!!!  Mixture of everything. U can call it rock or pop, but I  called it Mike's Sound!!
laopress.com: What give you inspiration to make this album?
Mike P     Fame and fortune!! lol .. Love and Hate, Peace and War.     People around me.
laopress.com: You have so many hit songs, was there any added pressure in recording new album?
Mike P     There was some pressure, but it came from the like of The Exile, Noy  Sydanon, Joey and other great Lao artists out there who've put out  great and  better albums. I was trying to create works that, if not up to their standards,  at least make it sounds ok.
laopress.com:  When you are writing a song which song comes easily to you – the more upbeat (rock) or ballads (pop)?
Mike P     I would say angry, fun upbeat songs. I'm bad at writing slow love songs….I've been trying for ages. But having said that, my first recorded song was love song.
laopress.com: Do you write your own music?
Mike P     I do, but for this album, I rather used the best writers when I had a  chance, right?. So most of them were written by Bro Xay Phounsavan the rest  were by Virasay Sacdpraseth (Da best music producer), Bro No (Dejavu) and  myself.
laopress.com: What is your favourite song in new CD?
Mike P     All of them. Don't u think? but I like  'Pai Tud Sin' (track5) a little  bit more, I wrote this song long time ago (when I was younger and shy) it takes  me back to high school days.  And the beat and arrangement is very much to my  liking. Simple and funnnn.
laopress.com: What music are you listening to at the moment?
Mike P     CREED and Any thing that made by Lao, like LaoFM99.9!!
laopress.com: Who do you admire in Lao music?
Mike P     All hard working Lao artists out there, despite losing money but still  continue making music. That is admirable.  But musically, It has to be Mr  Voradeth Ditthavong and The Exile.
laopress.com: Have you got what you want out of music career?
Mike P     No. I'm still trying to get into music career.
laopress.com: What is tough about being in spotlight?
Mike P     It's really tough. I can't go out without people recognise me.   Hehhehehe… actually, it's not hard, cos' everyone is already in spotlight.   Including u. we all are, we are family, we are Lao!!
laopress.com: What artist would you like to collaborate with in the future?
Mike P     Right now, I'd love to work with The Exile (maybe clean the guitar or mic  for them), Mr Voradeth (would be real inspirational just to hum along when he  sings), Noy Sydanon (it would rock, if I could get him to play in one of my song) and The beautiful Alexandra (even if I have to take a dance lesson!). The list goes on….
laopress.com:  As a singer songwriter, MC at FM99.9 – Sydney, sings in Jumba band, do your own music video, how the hell do you find time?
Mike P     Sorry mate, that's a secret! If I tell you, I have to kill you. But I'll  tell you something, DON'T
believe everything you
read about me!!! 🙂
laopress.com:  Any hobby? Sport, movie, etc….
Mike P     I love watching…. movie and enjoy (trying to) making it too. It changes  with time and mood.
laopress.com: Favourite food.
Mike P     Mum's Or Laam with sticky rice. I can't live with out them!
laopress.com: By the way, how is FM99.9 – Sydney doing?
Mike P     Great. The only place you can hear the Best, New, Quality Lao Music.
laopress.com:  Is there anything else that you would like to add?
Mike P     I'd just like to thanks Khon Lao took khon, who bought and listen to Lao  music, without you there won't be any good new Lao artists out there. And you,  thanks for your support, without people like you no one would know of my new
album nor would I know there are sexy Pamela and  Alexandra who sings Lao  songs.
laopress.com:  What's the best thing being rock/pop star?
 Mike P    Crikey!!!  Who's a rock star?? So you're the one who've been spreading the rumour.   No, I'm not rock star (I wish I was), but having an opportunity to record and
release CD is great fun and if people like my works then that's a bonus.
We have another world première music video from Mike's latest song.  This FUN song is another unplugged from Lao great pop/rock artist.  Some times in our lives, we've got to have a blue.
MUSIC VIDEO
1.  JUMBO lies
2.  Ya R Liar
3. Fun
Songs from Made In Heaven album
Hit Song
Written by Xay Phousavanh owner of FANFAM
Guitar by No Phanpaengdee