THE HISTORY OF SIKHOTTABONG STUPA
Extract from Khemphone Senpathathoume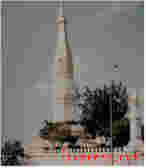 The Sikhotttanbong stupa funded by king Sumintharath or Sumitta Thammavongsa Atherat of Sikhottaboun Laung Empire about the 5th to 6th centuries before Christ year. According to the historical document of the Buddha's ash (That Phnon) retold that Nanthasane, the first king of Sikhottaboun Empire governed the town during the lifetime of the Buddha.
The history of Sikhottabong stupa didn't appear almost 500 years in any histories and legends. In the reign of LaneXang kingdom, the king Fa Ngum Maharath united the multi kingdom into one land in1353. In 1433 the governor of Kabong town (Maung Kao) started to chip and clear the surrounding of this stupa.
The history of Sikhottabong appeared in XVI as the middle age of LaneXang kingdom. In 1539 the Teravada regime of Buddhism influenced in Souvannaphoum region, the king Phothisarath renovated this stupa, Sikhottabong stupa in wealthy of LaneXang artistic. Renovation continued up to the reign of king Xaysettha II after Vientiane city founded the capital his Excellency adopted and honoured this stupa. The renovation completed in 1568 and the king leaded the people celebrated.
Began from the king Phothisarath, all king continuously took care of this stupa. Up to the reign of King Sourya Vongsa ,(1519 – 1622) the governor of Kabong town king Nor Mouang or Phraya Nakhonluangphisith Ratstanee Sikhottabounlaung leaded the people reserved this stupa continuously. In 1806 the king Anouvong ( Xaysettha III) renovated this stupa with king Malookha Nakhorn (Muang Kao).
Sikhottabong - the French domination period between 1893 – 1949.
After LaneXang lost independence to Siamese Imperialist (Thailand) in 1779 up to even the behind of king Anou's reign, the Sikhottabong were sorrowful and missed someone to take care of.
In 1912 the people in the village and surrounded town of Sikhottabong stupa chipped the plants and renovated the ancient grand hall. At the north side of the stupa they built a Vihara while inviting monks to stay there.
In 1945, after the first proclaiming of Lao independence, the Lao Buddhists reformed this stupa and annually organised celebration to pay homage Sikhottabong stupa. It is now the main festival of the people in Khammoune province which is held at the full moon day of the third month of every year.
The architectural characteristic of the Sikhottabong stupa –
The Sikhottabong stupa established at Moung Kao pagoda.
Situated about 6 km from Thakhek municipality ( the ruined town of Maloukha Nakkorn)
The stupa characteristics are four currigulated edges and each side length of 14,33m. The top of stupa has characteristics which closely resemble of lotus or banana flower which is the original artistic of Lao.
The west side close to Mekong River, the south side close to Muang Kao villages, East close to road and rice field and the north is closed to Thekhek municipality ( the provincial office in presence)
The new constructions at the stupa area are four cements made Buddha. Four houses built in 1961.
The government had loyalty order number for the heritage of the traditional history and National nature. Other heritage listed includes:
That Laung Stupa

Sisaket pogoda

The emerald house

Ong Tu pagoda

In Peng Pagoda

Simouang Pogoda

Luang Prabang town

Viengxay town

The mountainous pagoda of Champasak

Sikhot stupa

Ing Hang

The Phou Asa pagoda ( Pathoumphone district, Champasak province)

Stony tunnel (Tomo village Pathoumphone district, Champasak province)

Ting cave (Laung Prabang province)