Can't Get Over You - Lyrics and music by Tommy Chanthasene
IBU Sings "Hardlife" at the Fox TV Stage, Taste of Chicago
IBU, Jennifer Hudson, Jocelyn Enriquez and Jordan Segundo perform at a Benefit concert for UNICEF

REDEFINED iBU
If you didn't know, iBU will release the "Redefined" album in September. Perhaps their most complete album to date. They had made their name as one of the hip R&B artists. The good news is that you don't have to wait until then to get hold of it. You can order online through their website.

Now there's a name just ripe with promise. It is obviously Lao in origin. well, one of them anyway. All songs in IBU album are very serious in its politics of romance subject matter.
IBU creates the sort of music that you want to listen to. It's nicely produced and cleverly structured.
Tommy Chanthasene's heartfelt and insight lyrics are brought to life by IBU's smooth, soulful, seamless voices. These well crafted songs written by Tommy Chanthasene are testament to his song writing prowess.
They have been hailed as Chicago's most sought after Asian American male vocal harmony group. IBU is different from the most "male vocal groups", the label they prefer to be used, departing from the boy band image they are so often perceived to be.
This three member group delivers such rich harmonic sound that makes them different from the usual boy bands. IBU can perform a cappella, they sing with acoustic guitar accompaniment, perform with instrumental tracks, have choreographed numbers, and even break dance at their shows. It's the complete package that makes IBU a truly entertaining group.

IBU is short for "Inspired By U," a name the group chose because of they claim to be inspired by the people they sing to. IBU is composed of two Filipino-Americans, Jonathan Shauf and Mike Musni. The third member, Tommy Chanthasene is originally from Laos, and he migrated to the US with his family when he was two.

Official Website www.ibumusic.com music - http://www.soundclick.com/ibu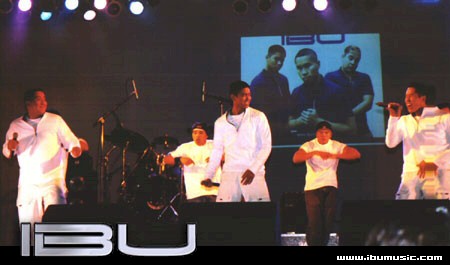 started performing as a group in March of 2001. However, the members are not new to the music scene. Not just musically inclined, each member of IBU is an outstanding vocal soloist.
IBU is extraordinarily dedicated to their music, setting aside hours of practice each week and constantly improving their stage performance abilities. IBU's harmony drenched songs, complimented by their ability to perform choreographed upbeat songs are proof of their versatility as a performer.

By the end of the second year, IBU made close to 50 performances which include opening for major concerts and shows that took them to Michigan, Indiana, and California. IBU has shared the stage with the more established Asian American groups performing at Marine World in Vallejo California, and at the prestigious Palace of Fine Arts in San Francisco and to rave reviews.
They performed at night clubs, talent showcases, universities, import car shows, and was featured on the TV show "Stateside" which was aired internationally on ABS-CBN's The Filipino Channel and on the International Channel as well. Their TV appearances include guest appearances on Chicago's Cable Access Network and Hataw Pinoy Television on Chicago's Channel 28. In July 2003, they were featured on ABS-CBN's Balita America as well as on FOX TV Chicago. Their most recent TV appearance was on WGN's Channel 9. They have been featured as artist of the month on Tuningin.com and Muziquenet.com.

IBU's music career became more defined in March 2003, when they auditioned and won a state-sponsored project called the Chicago Music Opportunity project (CMOP). 40 semi finalists were chosen from a field of over 300 audition tryouts and they participated in an extensive and thorough ten-week training program before the talent competition that culminated the project.
IBU competed and won on May 16 with their R&B rendition of their brand new song, "I Can't Get Over You," produced by Earl Powell, with lyrics and music by Tommy Chanthasene. The judges for the competition were music industry celebrities that included Caryn "Special K" Lee from Warner Brother Records, Inc.; Barbara McDowell of Power 92 of 102.3 FM radio; Yoki Songmaker of Yoki Songmaker Production; Wayne Cannady, CMOP vocal instructor, and Michelle Williams of Destiny's Child. CMOP really opened the doors to the mainstream music industry for IBU.
Since then they have been performing to mainstream audiences, notably at the 23rd Annual Chicago Music Awards where they have been enthusiastically received.

A week before CMOP's talent competion, IBU held it's first solo concert, presented by the Student Activities Department of the College of Lake County, followed by another solo concert in December of the same year. Ambibo.com wrote about the CLC show "Speaking of energy, IBU were oozing with it. Jumping, tumbling and singing at the same time takes supreme effort for ordinary beings, but for them it seemed effortless. It wreaked creativity too! From IBU's improvisations, genuine artistry was evident. I think I know why so many came to IBU's first ever solo concert as an act. People see themselves in them and share their aspirations. As I took final shots backstage, shook hands with Mike, Tommy and Jonathan and wished them luck, I heard myself confidently declare, "The world is waiting for us." Yes, I was inspired by them."

IBU has signed a exclusive worldwide multi-album recording deal with a Chicago based label, Rickey Hendon Records that has released IBU's third recording project, a compilation CD which also features a Detroit Singer, Wayne Cannady at a CD release party in February 2004, at the Holiday Inn Convention Center in Hillside. IBU released a single "Next To the Candlelight" in July of 2002, and was also a part of the Chicago Music Opportunity Project (CMOP) compilation CD, released by Top Notch Records in July 2003. They are now working on a forth recording project, a full length CD to be released in the mainstream market by Spring of 2004.

In November of 2003, IBU's music ranked #1 in the R&B Charts of Soundclick.com, the website that also named the as the hottest signed band for that same month. Their song, "I Can't Get Over You" is has been constantly in the top ten to date. IBU awards include an Achievement Award, presented by Felica Productions in October 2003, The 2003 Chicago Filipino-American Hall of Fame award for the Excellence in Entertainment, and the Most Outstanding Performing Group at the Filipino-American Music Entertainment (FAME) awards in February of 2004. By the middle of 2004, IBU will be doing a tour to promote their new CD.

<![endif]>
<![if !supportLineBreakNewLine]><![endif]>