YEAR YEAR CELEBRATION 2007
Here are pictures taking during Lao New Year celebration.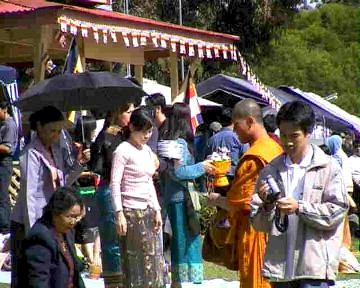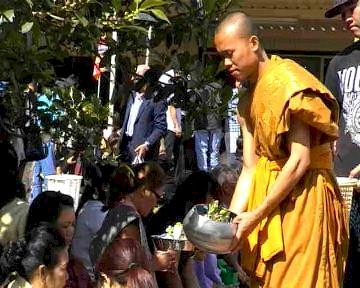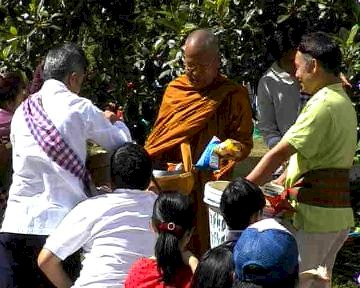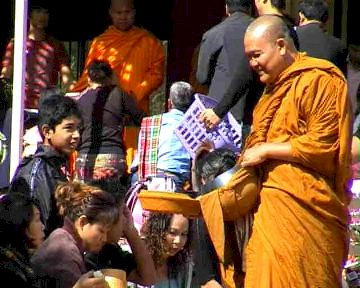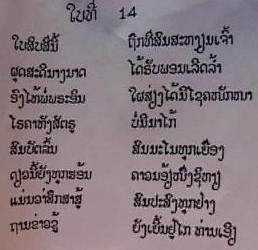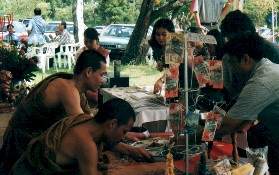 Wat Buddhalavarn has more than 20 years of history. Temple was originally house in Cabramatta where there are many Laotian living in and around that area. Several monks stayed at rented three bedrooms house. After several years of generosity of donation from Buddhists, Wat Buddhalavarn was able to purchase a house in Cabramatta. That was where it'd based for another six – seven years.
In the late 1990's Wat Buddhalavarn Inc bought more than 50 acres of land, two houses and a large shed. One house is now used for monk residence and another originally converted to library then meditation centre and it is now being exclusively used to house quest monks. The shed is being used as temporally Patthasima.
Many things have been happening since the turn of a new millennium at Wat buddhalavarn; renovating hall, constructing new Patthasima, and building new front wall of temple.
A large shed was converted to temporary hall. This is heart and soul of Wat Buddhalavarn. Every thing happens here. There are new and larger windows, new kitchen, brighter colour for the whole shed, veranda, and floor. Over years it has completely transformed into stunning building. . A temple without a Patthasima is not a complete temple.
Constructing of new Patthasima at Wat Buddhalavarn, His Excellency The Honourable Gordon Samuels, AC VCO, Governor of New South Wales at the time laid the first foundation stone followed by dignities from various organisations and thousand and thousand of Buddhists. Thing slowly starts to develop.
Front fence of the temple has been going through major cosmetic surgery. Hopefully in the near future this temple will looks as good as it has ever been. New brick wall fence has been built.
Remember those who wish to donate or contribute, please contact Wat Buddhalavarn Inc and find out how to make your donation.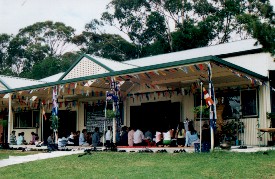 WAT BUDDHALAVARN INC
.
FOREST MONASTERY & MEDITATION CENTRE
LOT 12 MINERVA ROAD
WEDDERBURN NSW 2560
KUTI TEL: 02-4634-1200
SALA TEL: 02-4634-1419
FOUNDATION STONE LAYING CEREMONY
His Excellency the Honourable Gordon AC, CVO, Governor of New South Wales and Mrs. Samuels.
His Royal Highness Sadet Tiao Khamhing.
His Excellency Soutsakone Pathanmmavong, Lao Ambassador to Australia.
His Worship Counciloor James Kremmer, the Mayor of Cambelltown City Council.
Council Banton Banfield, representing His Worship the Mayor of Cambelltown City Council
Mr Dennis Moore, Director of Planning and Development, Campbelltown City Council, representing General Manager, Mr. Paul Tosi.
Chief Superintendent Chris Evans, Police Regional Commander, Greater Hume Region.
Superintendent Ben Feszezuk, Local Area Commander.
Captian Maija Burtmanis.
Mrs. Raewynn Sinclair Kidd. Director of Community Development, Campbelltown City Council.
Assistant Director of Campbelltown TAFE
Mrs Norberta Pereira, Community Consultant, Development of Immigration and Multicultural Affairs and Mr. Perera.
Ms Phayvanh Phoumindr, President of Council of Lao Organisations of NSW.
Mr Phillip Costa, president of Macarthur Migrant Resource Centre.
Mr Stephen Hind, Inspector of Campbelltown City Council.
Mr Graham Cambell, President of Weddernburn Association.
Ms Jone Ward, Prseident of Campbelltown City Festival of Fisher Ghost and Ms Marie Ruthledge.
Mr. Ron Kidd, Managing Director of England and Kidd P/L
Mr. Phillip Hayward, Managing Director of Lean and Hayward P/L
Mr. Richard Meaker, Engineering Manager of Lean and Hayward P/L
Mrs. Annie Lee, Cambelltown TAFE outreach Coordinator and Mr. Lee
Manager, Macarthur Migrant Resource Centre.
Coordinator of Housing Department.
Presidents and Chairs of various Lao Societies.