KING OF POP ROCKS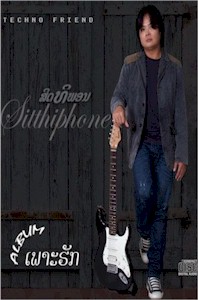 BECAUSE OF YOU
After Sithiphone introduced new generation to pop music and racked up album sales, Sithiphone is yet ready to pass on the baton to those raw talented bunches of kids who changed Lao music industry. Not yet anyway judging by the quality of songs that have been released by this popular pop singer, Sithiphone Souvannasouk. This is the latest album that will be released very soon. He is just finished off music video. There will be ten brand new songs in this up coming album which will known as Poorhugg meaning Because of You.

By Andy 26/8/08
This is the latest pop song by Lao singer/songwriter super star Sithiphone. It's called Trust Me Baby. He represents change and progress in our entertainment and music industry. He again raises the stakes already brilliant music. This latest song is to remind us just how far ahead of his time.
<![if !supportEmptyParas]>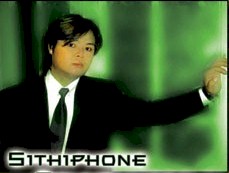 ONE SHOW ONLY!
Here is your chance to see Lao super stars live on stage in concert under one roof. The brilliant pop singer Sithiphone who sings incredible ballad love songs. He can melt any girls' hearts. The talented Noy & SDN band, they've released the most sexy Lao songs ever. The Lao most exciting Alternative Rock band quartet, The Blackflame with brand new line up. The loud Moukie, the lead singer from Heavy Metal band, The Bohaln Band, the heaviest metal of all mother metal. And introducing Pass Due band. Watch promo. More info>>>>

FOR LOVE OF BRILLIANT MUSIC
Lao pop music owes so much to this guy. When I chatted with him he has always shown a varying understanding of contemporary pop culture. Well, he lives it. He always paid some kind of homage to people who for the renaissance they have offered and helped his career, not that he needed.
He again raises the stakes already brilliant music. This latest project is to remind us just how far ahead of his time. Beautiful love songs from his latest album, we do have.
1. Ya Sai Khum Wanh - Typical Woman
2. Meua Jao Khao Mah - When I fall In Love
3. Jai Nak Leng - Cold As Ice
4. Leum Manh Sah - Forget Him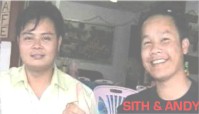 SONG FOR ANDY "NGO ENG"
With his previous album Lermmay, he has reached Lao pop legendary status. His latest is dropping just in time for summer, and is looking to be massive. One of his latest songs that will definitely feature high on the best song list of all time is track number nine - "Ngo Eng".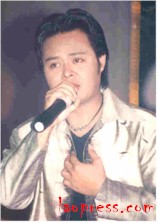 WORLD EXCLUSIVE
TV Interview with Sithiphone
Recently, I had a chat with Lao super star, Sithiphone Souvannasouk.
Don't miss our world exclusive interview with this famous star. He talked about his music, concerts, the band - techno friend, new album etc...
Sithiphone " I would like to specially thank you to these people who were behind the scene. They are Charabouth, Phorn Hungphet, Mee (Daraphet's son) who plays lead guitars for all 10 songs of my album.
Duangmany Soliphan as Producer and Mixed down. Mr. Sounthone, Mr. Sourath, and others involved were just re-arrangement of our creatives. Mr. Chanthalangsy Lynthagunn, he is Designed Excutive Controller. My albums produced by Lao Art Media."
sithiphone said "My Third albums will complete or finish in middle of year 2004. And also Lao Art Media will have big concert at That Luang Park on December 27, 2003. On that day I may be sing my new songs about 2 or 3 new ones. Hope to see some fan from your town visiting Vientiane and celebrate New Year with us."
TV interview "World Exclusive"
SONG SAMPLE: YOM
Some of you may think that we have ulterior motives when we keep on publishing beautiful songs. YOU'RE DAMN RIGHT! Here is another one from Sithiphone's latest album.
Song likes this simply help us demonstrate the brilliant talent of our artists. This excellent production represents change and progress in our entertainment and music industries.
TECHNO FRIEND
It has been several years since Techno Friend graced and changed the face of Lao pop/rock music. Then there was Ang Othong appeared solo in our music scene. In the time we have Noy, Xay, Mike, Joey, Sarky and the Exile. They have pushed Lao music to new height. Now, SITHIPHONE SOUVANNASOUK, the-then-lead-singer of the Laos famous pop/rock band, TECHNO FRIEND, stand up to this competition with his new solo album, "BORN AGAIN".
Fan of the most famous pop/rock band from Laos in the world will be glad to hear that Sithiphone is back solo & alone. The music and the songs are still the best. He will revolutionise Lao music pop/rock music again. Still he has firm grasp on the throne.
In today world standard, he is still up there with the very best of them all. Ahead of his time in every way, Sithiphone proves far too good.
This love song album ?BORN AGAIN? by Sithiphone feature ten of the best love songs. The unforgettable ?BORN AGAIN? song, then the beautiful ?YOM? and the rest are just as good. They make this CD complete.
Sithiphone doesn?t just live pop/rock dream. He created it. This album is unbelievable and unforgettable. ?BORN AGAIN? has a lot more to offer than just pretty pop/rock songs. This is brilliantly crafted, honestly, decidedly delivered, just listen to ?YOM? and you need no more proof.
All songs are written & sung by Sithiphone. Music by Deungmany, oudom, and Soulath. Mixed by Deungmany Souliphane and produced by Chanthalangsy Lynthagunn.

Interview with our TV Host, Andy.
Music Video - Newstart