He has achieved the most amazing fusion of art and sound from his latest experiment I ever heard. This will be another indication of how darn good his or Lao music will be. No doubt, this album will be instantly powerful, intricately compelling, has immerse longevity and his unique artistic statement. More >> . More info

Rating:


25.05.05
DID YOU KNOW...
Willy Denzey, another brilliant R&B artist from France released his third single from the album ACTE II. Check it out

Rating:



At last we have Joey Sisouvath third album. As documented that last week we interviewed him for our TV section. His brand new songs uploaded. If you like what you hear then grab them from music store now.
More info

Rating:


This Hip Hop song from Lao Crimino will surely set a new bench mark for Lao Hip Hop and will become most talked about song of all time in the history of modern Lao music. This group of Lao Crimino will conquer and lay claim their Hip Hop territory. There is no shocking rhymes here but smooth, beautiful and perfect .....Pix of Lao Crimino More info

Rating: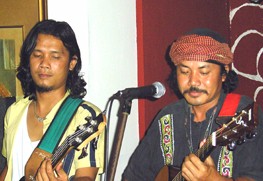 MAG, THE HIPPY GREENY
His top hit song is "Phu Kao Kaun". It released, well almost ten years ago from album "Saparnhug Lao-Thai" with the same company that produced Lao Heavy, The Sapphire.
Now he is back with two friends - Gydaophet and Suthin.. New album will be known as "3 Tigers". Here is a sneak preview of their new music video. This song is produced and written by Panya Phanthapanith, One of the four owners of SS Flair Records Group.
SS FLAIR RECORDS GROUP
B.DONGNASOK, M. SYKOTHABONG VIENTIANE LAOS
P. 856 - 20 551 4374, 562 1192 561 9242

<![if !supportLineBreakNewLine]>
<![endif]>
<![if !supportLineBreakNewLine]><![endif]>